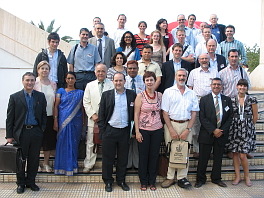 Wessex Institute (WIT) organises an extensive annual meetings programme, including short courses, seminars and conferences.
Short courses usually take place at Ashurst Lodge, whilst international seminars and conferences are held in many different locations around the world. The conference programme is particularly active and has brought international renown to the Institute.
These meetings are a product of the many formal international links and scientific contacts that the Institute has. Originally focused on physical sciences and engineering, the range of topics covered by the meetings has expanded to cover a wide variety of fields.
The Wessex Institute conference programme is particularly unique as papers presented at the conference are available in hard book format as well as in electronic format, where they can be downloaded Open Access directly from the web at www.witpress.com. All of this is possible due to the proven skills of a dedicated conference division and the services provided by the Institute's publishing arm.
The excellent reputation of the WIT Conference Programme in different parts of the world continues to grow and serves as an ideal medium to achieve the Wessex Institute's International knowledge transfer objectives. The Institute is committed to acting as a link between professional and academic bodies and encouraging trans-disciplinary research.