Urban Transport 2011
17th International Conference on Urban Transport and the Environment

6 - 8 June 2011
Pisa, Italy
Overview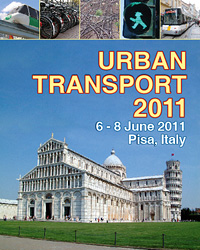 The 17th International Conference on Urban Transport and the Environment has recently been held in Pisa, Italy, co-organised by the University of Pisa, represented by the Co-Chairman Professor Antonio Pratelli, and the Wessex Institute of Technology (WIT), represented by the other Co-Chairman, Professor Carlos A Brebbia.

Transport developments and innovations have been part of the evolution in human culture through all the different stages of the growing complexity of economic and social relationships. Over the centuries, freight transport and military logistics have grown up jointly with commercial advantage, and with the development of cities and nations. The control of transport results in economic power and the possibility of influencing policies.

The continuing requirement for better urban transport systems and the need for a healthier environment has added to the success of this annual meeting which attracts international delegates from many different countries. Infrastructure systems, new approaches and original ideas need to be thoroughly tested and critically evaluated before they can be implemented in practice, which highlights the importance of meetings such as Urban Transport. Moreover, there is a growing need for integration with telecommunications systems and IT applications in order to improve safety, security and efficiency.

The conference started in Southampton in 1995, continuing in Barcelona (1996); Aquasparta, Italy (1997); Lisbon (1998); Rhodes, Greece (1999); Cambridge, UK (2000); Lemnos, Greece (2001); Seville (2002); Crete (2003); Dresden (2004); the Algarve, Portugal (2005); the New Forest, UK (2006); Coimbra (2007); Malta (2008); Bologna (2009) and Limassol, Cyprus (2010). The importance of the meeting is reflected in the papers presented in the corresponding volumes of the series – Transactions of the Wessex Institute, which are archived online at http://library.witpress.com
Opening Address by Professor Carlos Brebbia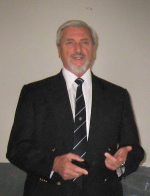 Professor Carlos A Brebbia opened the conference in the name of his Institute explaining the importance of this type of meeting within the objectives of WIT, which are to disseminate knowledge at an international level. This conference in particular has been organised in Pisa as a result of a collaborative agreement with the University, an agreement which has already produced other joint activities.

WIT – Professor Brebbia said – is interested in a wide range of research and advanced scientific activities, including PhD training, arrangement of short courses and seminars, and state-of-the-art consulting. These activities produce a substantial amount of material in the form of papers, books and software. WIT Press, the publishing arm of the Institute, is engaged in disseminating the results in paper and digital format. WIT Press maintains an eLibrary for instance where the WIT conference work is archived. This library (see http://library.witpress.com) is very popular within the community and helps to ensure that the work presented at WIT meetings is permanently available.

In addition, WIT has recently launched four important scientific Journals which cover fields which have not received sufficient attention. Professor Brebbia commented that the papers presented at the conference will be most suitable for publication as an extended version in the International Journal of Sustainable Development and Planning or the International Journal of Safety and Security Engineering, both produced by WIT Press.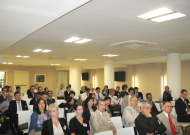 Professor Brebbia concluded by saying that WIT sees itself as complementing rather than competing against other academic institutions. While continuing to work in its particular area of research, computational modelling, it collaborates with other institutions, through its involvement in international training programmes, joint conferences and its participation in international research projects, such as those supported by the EU.

Following these remarks, Professor Pierangelo Terreni welcomed the delegates in the name of his School of Engineering and expressed his support for the activities carried out in collaboration with WIT.
Eminent Scientist Medal Awarded to Professor Antonio Pratelli
Professor Brebbia then referred to the personality of Antonio Pratelli, Professor of Transport Systems and Traffic Engineering at the University of Pisa. Antonio's career has been outstanding since graduating as a civil engineer summa cum laude at the same Institution.
He has been Visiting Professor at many renown Universities such as Florence, Siena, Iowa State and more recently collaborates with the University of Bahrain in the field of Transport Systems Design and Planning.
He contributes to several Masters Programmes in his field of research and has been Scientific Director of Research Programmes for the Italian Ministry of Education and Research amongst many other similar contacts.
Professor Pratelli is the author of several textbooks adopted by many Italian Universities and has published close to 100 scientific papers.
His professional activities are no less impressive, having contributed to network planning and road facilities in different Italian locations, consulted for large shipping and delivery firms, and collaborated in feasibility studies and design for important highway facilities. In the past decade he has designed a number of roundabouts in different locations around Italy.
Professor Pratelli is currently Director of Transport Systems Analysis Laboratory at the Department of Civil Engineering, University of Pisa, as well as Director of the Toscan Logistics Laboratory at Leghorn.
Following these remarks, Professor Brebbia awarded Professor Pratelli the Eminent Scientist Medal of the Wessex Institute of Technology, which in the past has been awarded to other renowned researchers.
Professor Pratelli then delivered his keynote address on 'Testing for a large roundabouts capacity model: experimental comparisons between Italy and Bahrain.' which was co-authored with Professor H.M.N Al-Madani of the University of Bahrain.
Conference Topics
The variety of topics covered by the conference are of primary importance for analysing the complex interaction of the urban transport environment and for establishing action strategies for transport and traffic problems. The conference presented up-to-date material on a series of important topics classified as follows;
Transport modelling and simulation
Urban transport planning and management
Public transport systems
Land use and transport integration
Traffic integration and control
Transport demand analysis
Advanced transport systems
Intelligent transport systems
Safety and security
Safety of users in road evacuation
Special Presentation by Mr Wai-Leung Tang
A special presentation was made by Mr Wai-Leung Tang, Chief Engineer at the Transport Department of the Hong Kong Government who gave an overview of the Transport System in Hong Kong. Mr Tang is in charge of formulating the transport planning strategy, and overseeing a wide range of planning-related issues.

The presentation dealt with how Hong Kong managed to control the number of road vehicles by having a very efficient railway system which continues to attract more passengers. Mr Tang presented the Transport Strategy Plan for Hong Kong with emphasis on better integration of transport and land use planning. The work also takes into consideration pedestrians and cyclists needs. Cycling is particularly important in Hong Kong and all parking facilities are free. The ongoing planning includes studies of electric cars, infrastructure needs, and the impact of intelligent transport systems.
Invited Presentations
There were a series of invited presentations which helped to enhance the meeting.

'A theoretical multimodal assignment model for simulating intermodal trips'
by Luca D'Acierno, University of Naples 'Federico II', Italy

'Evaluation of road safety level in school areas: the case of the city of Thessaloniki, Greece'
by S. Basbas, University of Thessaloniki, Greece

'The need for change of the transport mode in the great cities of Romania'
by Ioan Strainescu, ICPE, SAERP, Romania

'Comparison of the emission factors measured in real world driving with those of COPERT'
by Julio Lumbreras, Technical University of Madrid, Spain

'Metro line implementation in a European city'
by Nuno Gomes-Rocha, PROEC Ltd., Portugal

'Urban electrical vehicles as the solution for public transportation in the cities of Romania'
by Emil Tudor, ICPE, SAERP, Romania
International Scientific Advisory Committee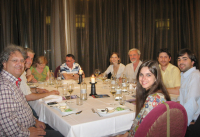 The International Scientific Advisory Committee of the conference met over dinner to discuss how the meeting ought to evolve and decide upon new topics for when it is reconvened in 2013 (the 2012 conference is to be held in A Coruña, Spain). Several topics were suggested to account for emerging areas of research and applications. The consensus was that the conference has been very successful this year and that this was in great part due to our hosts, the University of Pisa. Hence it is important to decide upon the 2013 venue taking into consideration the commitment of possible partners. WIT's conference division will now investigate the locations proposed and find the most appropriate in terms of facility access and prices.
Conference Dinner in Lucca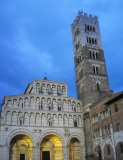 The conference dinner took place in Lucca, the town where Professor Antonio Pratelli lives. It included a tour of the main landmarks. The town is renown for the perfect condition of its walls and fortifications, as well as for being the birthplace of the renown composer Guiseppi Verdi. It was founded by the Romans as a military citadel and the influence can still be seen in part of the town where the streets run at straight angles. The Roman amphitheatre has been changed in the most charming manner. It is now an elliptical form with the walls and gates incorporated in a series of houses. This creates an oblong Piazza in its centre where the arena once was, which is renown because of its beautiful proportions.

Another interesting heritage building amongst many others is the Chapel of S. Michele in Foro with its tall campanile and the Duomo di S. Martino with its tower built upon the remains of a Roman public building. The delegates enjoyed the tour that was guided by Professor Pratelli.

The dinner took place in a local restaurant renown for its cooking. It consisted of two types of pasta and a main course with different meats, followed by a selection of regional cakes all washed down with the excellent Chianti wines for which Tuscany is renown throughout the world.

The conference was characterised by its friendly atmosphere and the many formal and informal discussions that took place during the meeting. The next Urban Transport conference will be held in A Coruña, Spain from 14-16 May 2012.
Publication of Papers
The proceedings of Urban Transport XVII, 736pp (Print ISBN: 978-1-84564-520-5; Online ISSN: 1746-4498) are available in paper and digital format from WIT Press priced at £316/US$632/€442. Orders can be placed on the WIT Press web site at www.witpress.com or by email: This email address is being protected from spambots. You need JavaScript enabled to view it., telephone: +44 (0) 238 029 3223 or fax: +44 (0) 238 029 2853.

Papers from the conference will also be hosted online at the WIT eLibrary as Volume 116 of WIT Transactions on the Built Environment (Online ISSN: 1746-4498). For more details visit the WIT eLibrary at http://library.witpress.com