5th International Conference on Prevention, Assessment, Rehabilitation and Development of Brownfield Sites

14 - 16 September 2010
Algarve, Portugal
Overview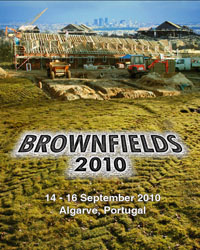 The fifth International Conference on Prevention, Assessment, Rehabilitation and Development of Brownfield sites (Brownfields 2010) has taken place in the Algarve, Portugal, organised by the Wessex Institute of Technology, UK. The conference was chaired by Dr Cynthia Brooks of Greenfield Environmental Trust Group, USA and Carlos A Brebbia, Director of the Wessex Institute of Technology, UK.
Brownfield redevelopment, which began as a handful of projects in a few developed countries some fifteen years ago, has become a widespread practice on several continents. In the last decade, reuse of brownfields – sites that are typically outdated, abandoned, mothballed and under-utilized – has grown exponentially. Initially, the impetus to redevelop brownfields came from increasingly vocal stakeholders concerned about lost jobs and taxes, protection of public health and natural resources, the scarcity of well-situated sites in high-growth markets, the need to curb urban sprawl and the decay, and well as the decline, of major urban centres.
Policy makers and regulators responded to these, often competing, stakeholder concerns by instituting a variety of programmes, policies and regulations designed to address the most significant barriers to reusing such contaminated sites including; technological capabilities, financial incentives, complex regulatory requirements and fear of liability. Today, diverse stakeholder interests continue to dominate the drive to remediate and reuse brownfields. More recently, emerging values, priorities, markets and technological advances have placed brownfields squarely at the centre of broader efforts aimed at social, environmental and economic sustainability. This heightened momentum in brownfield reuse has assumed new urgency as communities, businesses and governments grapple with rising energy costs, widespread economic decline, quality of life issues, societal and market demands for environmentally sustainable developments and, of course, global climate change.
Recycling contaminated land is inherently grounded in the three basic pillars of sustainable development – society, environment and economy. Brownfield reuse satisfies these inter-dependent principles through clean-up and restoration of the environment, creation of new jobs and public assets, rehabilitation of old infrastructure and the infusion of community pride.
Today's challenge is to continue to advance the technical, scientific, financial, regulatory and policy tools needed to push brownfield revitalization into mainstream practice.
Opening Address
The conference was opened by Professor Carlos Brebbia who described the work at the Wessex Institute of Technology (WIT) and in particular the emphasis on helping industry and society as a whole, as well as acting as a forum for interdisciplinary research. The conference series – Professor Brebbia said – is an important part of WIT strategy in reaching across other disciplines.
WIT conference proceedings are also widely distributed throughout the world in digital as well as paper format. This ensures a very wide dissemination of the work presented at these meetings. In addition, the publishing arm of the Institute (WIT Press), has launched three interdisciplinary Journals which aim to cover fields that are not sufficiently well served by existing Journals.
WIT welcomes proposals for collaboration in the fields of research and advanced training. Professor Brebbia finished by inviting the participants to the campus to visit some of the researchers and see how WIT operates.
The conference follows the series of four previous meetings held in Cadiz (2002); Siena (2004); Tallinn (2006) and Cephalonia (2008). The meetings provided an international forum for discussing problems facing the public and private sectors seeking to overcome the challenge of reusing brownfield sites and to capitalize on the opportunities they present for all stakeholders.
The meeting brought together international information, experience and research to continue providing vital knowledge to help achieve brownfields revitalization, restore our built environment and promote sustainable development.
Conference Sessions
The conference presentations were classified under the following topics;
Rehabilitation
Risk Assessment
Case Studies
Remediation
Invited Presentations
There was a series of invited presentations;
'Brownfield redevelopment: a business approach for regional collaboration'
by Wim Schaefer, Eindhoven University of Technology, The Netherlands
'Spatial uncertainty of groundwater-vulnerability predictions assessed by a cross-validation strategy: an application to nitrate concentrations in the Province of Milan, northern Italy'
by Andrea Fabbri, University of Milano-Bicocca, Italy

'Remediation and development of a former rubber products manufacturing facility in Colorado, USA'
by Roger Olsen, Camp, Dresser and Mckee Inc., USA

'The Sydney tar ponds: lessons learned from Canada's first superfund level project'
by Edwin MacLellan, Cape Breton University, Canada
'Computer simulation for aquifer remediation using pump-and-treat approach with re-injection'
by Viktor Popov, Wessex Institute of Technology, UK
'Comparative risk assessment of potentially contaminated sites: proposal, implementation and application of a regional methodology'
by Fabio Tatano, University of Urbino, Italy
'Brownfield rehabilitation and development case studies'
by Cynthia Brooks, Greenfield Environmental Trust Group, USA
Joint Sessions on Risk Analysis
The conference had two joint sessions with the International Conference on Computer Simulation in Risk Analysis and Hazard Mitigation. They included a series of interesting papers;

'Quantitative assessment parameters of the protection level of national strategic sites in the EU'
by Josef Ristvej, University of Zilina, Slovakia

'The concept of social risks perception'
by Katarina Kampova, University of Zilina, Slovakia
'Spatial uncertainty of groundwater-vulnerability predictions assessed by a cross-validation strategy: an application to nitrate concentrations in the Province of Milan, northern Italy'
by Andrea Fabbri, University of Milano-Bicocca, Italy
'A critical look at risk analysis of disasters'
by Anatoly Lepikhin, Romanian Academy of Sciences, Romania
'Bayesian inference in oil spill response management'
by Robert Aps, University of Tartu, Estonia

'Robustness analysis of industrial emergency plans: a model-based methodology'
by Gergios Karagiannis, Ecole des Mines de Saint-Etienne, France
Conference Dinner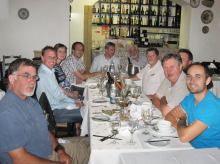 The conference dinner took place in the historical village of Porches renown for its distinctive pottery. The restaurant where the dinner was held offered a series of Portuguese dishes, with the main course being fish cooked in a local sauce. The dishes were accompanied by port and white wines from Alenterjo, ending in after dinner local 'grappa' and liqueurs. The main attraction of the evening was the performance of a Fado ensemble which consisted of Portuguese and classical guitar players and a singer. The fado is a unique music originating in the city of Lisboa but that has become symbolic of Portugal. It has a strange mixture of happiness and melancholy and the songs celebrate the joys of life and the beauty of the country.
Excursion
A special complimentary excursion and barbeque dinner was arranged for the participants to see some of the Algarve locations with the most chaotic coastline and rugged cliff faces, as well as sites connected with the golden age of Portuguese history.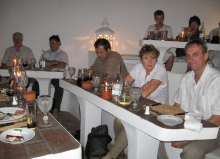 The delegates were given a guided tour of that started from the hotel and took them to the 'End of the world', the windblown Cape Saint Vincent, that faces the Atlantic at the extreme southwest of Europe. This is the part were the coastline ends and the open sea begins. They also visited a nearby village and fishing harbour, and continued towards Ponta de Piedade, a collection of rock features with fine views over Sagres bay. The tour continued to Lagos, a beautiful and historic town, linked to the era of the Portuguese discoveries. There they saw many historical sites ranging from Europe's first slave market to the overly ornate Church of Saint Antonio with its adjacent Museum.
They had some time at leisure at Tivoli before proceeding to have a barbeque dinner in a well-known hotel.
The tour and barbeque were a great success and helped to cement the links between the delegates.
Special Presentation by Cynthia Brooks
The conference was closed with a special contribution by the co-chairman, Cynthia Brooks, on brownfield rehabilitation and development presenting several important case studies. Cynthia is president of the Greenfield Environmental Trust Group amongst other important appointments. She is a Civil Engineer from Duke University by training with a BA in law from Harvard University. This gave her a unique background to become involved in the field of brownfield use where she is involved with many important projects.
The brownfield conference was very successful in terms of quality of presentations and discussions. The meeting was characterized by its friendly atmosphere and the many opportunities for the delegates to meet outside of the formal presentations.
The meeting will be reconvened in a place and location to be announced.
Publication of Proceedings
The proceedings of Risk Analysis VII & Brownfields VI, 960pp (Print ISBN: 978-1-84564-472-7; Online ISSN: 1743-3517) are available from WIT Press priced at £365/US$730/€511. Orders can be placed on the WIT Press web site at
www.witpress.com
or by email:
This email address is being protected from spambots. You need JavaScript enabled to view it.
, telephone: +44 (0) 238 029 3223 or fax: +44 (0) 238 029 2853.
Papers from the conference will also be hosted online at the WIT eLibrary as Volume 43 of WIT Transactions on Ecology and the Environment (Online ISSN: 1743-3517). For more details visit the WIT eLibrary at
http://library.witpress.com