RISK/SAFE 2022
13th Conference on Risk Analysis, Hazard Mitigation and Safety and Security Engineering

12–14 October 2022
Online
Overview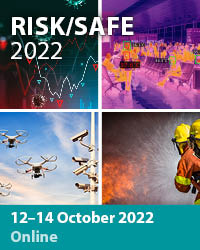 With the main objective to preserve our delegates' wellbeing, but also with the belief that the international contacts among the scientific community should not be stopped, WIT decided that this conference should not take place as scheduled in Rome, Italy but take place as an online event instead.
The conference was organised by the Wessex Institute, UK, represented by Prof Santiago Hernandez; the University of Rome "La Sapienza", Italy represented by Prof Fabio Garzia and Prof Mara Lombardi; and the University of Milano-Bicocca, Italy represented by Prof Andrea Fabbri.
The conference combined the International Conferenced on Safety and Security Engineering which started in Rome in 2005 and the International Conference on Risk Analysis which started in Valencia in 1998.
The purpose of the conference was to provide a forum for the presentation and discussion of the most recent research and industrial developments in the theoretical and practical aspects of safety and security engineering. It also covered all aspects of risk management and hazard mitigation associated with both natural and anthropogenic hazards.
Opening of the Conference
The conference was opened by Prof Santiago Hernandez, Wessex Institute Board of Directors, who welcomed the delegates to the event on behalf of all Chairs.
Invited Speakers
There were a series of invited lectures on advanced topics of research and applications, as follows:
Can we assess landslides hazard in the volcanic crater of Lake Albano?
by A Patera & Andrea G Fabbri


Emotional analysis of safeness and risk perception of different payment systems in Italy and UK during Covid-19 pandemic
by F Garzia, F Borghini, J Bove, M Lombardi & S Ramalingam


Road tunnels risk-based safety design methodology by GU@LARP quantum risk model
by M Guarascio, D Berardi, C Despabeladera, E Alakbarli, E Di Benedetto, M Galuppi & M Lombardi


Geostatistical modelling of seismic actions on the structural components of the San Benedetto road tunnel (Italy)
by M Guarascio, A Liberta, D Berardi, E Alakbarli & M Lombardi
Conference Sessions
The papers presented during the conference were classified under the following headings:
Risk analysis, assessment and management
Environmental management
Cybersecurity/e-security
Safety and security engineering
Q&A Live Zoom Sessions
Conference delegates were invited to participate in two Q&A live zoom sessions which took place on 13th and 14th October 2022. These friendly sessions were a great opportunity for participants to interact with each other and put questions to authors about their papers.
Conference Publication
Papers presented at this conference are published in Volume 214 of the WIT Transactions on The Built Environment (Electronic ISSN1743-3509). Papers presented at the meeting are available Open Access in the eLibrary of the Wessex Institute (https://www.witpress.com/elibrary) from where they can be freely downloaded by any interested parties.
Closing of the Conference
We are very sorry that we were not able to meet our delegates in person this time, but hope that we will be able to do so at a future event.