Introduction
River Basin Management 2019 is the 10th Conference in the series which marks the growing international interest in the planning, design and management of river basin systems.
River Basin Management includes all aspects of Hydrology, Ecology, Environmental Management, Flood Plains and Wetlands. Riverine systems are coming under increasing pressure due to anthropological and natural causes. Prominent amongst the problems affecting them is water scarcity and quality, which requires the development of improved methods for better river management.
Changes in the landscape, use of the land and climate conditions lead to a continuous revaluation of river basin management objectives. This requires the development of better measuring tools as well as the use of increasingly accurate computer software.
Catastrophic events such as floods and associated landslides, erosion and sedimentation can have serious effects not only on life and property but also on the basin ecology. Frequently these problems are aggravated by the unforeseen consequences of man made changes in the river basin. This has led in recent years to work on river restoration and rehabilitation with various degrees of success.
The first River Basin Management conference took place in Cardiff, UK in 2001, followed by meetings in Las Palmas, Gran Canaria (2003); Bologna, Italy (2005); Kos, Greece (2007); Malta (2009); Riverside, California (2011); The New Forest, UK (2013), home of the Wessex Institute; A Coruna, Spain (2015) and Prague, Czech Republic (2017).
The objective of this series of conferences is to bring together practitioners and researchers in academia and industry in the hope that their interaction will foster mutual understanding and lead to better solutions for river basins.
Conference Topics
The following list covers some of the topics to be presented at River Basin Management 2019. Papers on other subjects related to the objectives of the conference are also welcome.
Water resources management
Flood risk management
Ecological and environmental impact
Erosion and sediment transport
Hydrological modelling
River restoration and rehabilitation
Hydropower issues and development
River and watershed management
Water quality issues
Organic contamination management
Agricultural pollution
Transboundary water issues
Estuaries and deltas
Climate change
Water quality and health
Socio-economic issues
Water governance and policies
Data acquisition, management and analysis
Hydraulic structures
Experimental measurements
Rain water management
Water energy nexus
Ecosystem services
Extreme hydrological phenomena
Drought risk management
Hydraulic modelling
Geographical information systems
Remote sensing in hydrology
Water law
Benefits of Attending
Publication of Papers
Papers presented at River Basin Management 2019 are to be published by WIT Press in a Volume of WIT Transactions. Selected papers will appear in an issue of the International Journal of Sustainable Development and Planning.
Reviews
To ensure the quality of our publications, abstracts and papers are peer-reviewed by members of the International Scientific Advisory Committee and other experts, with manuscripts processed through CrossRef Similarity Check.
Open Access
WIT Press is an advocate of Open Access which offers maximum dissemination of your work. All WIT Transactions and Journal papers can be downloaded for free from the WIT eLibrary (www.witpress.com/elibrary).
Indexing and Archiving
Papers presented at Wessex Institute conferences are referenced by CrossRef and have appeared in notable reviews and databases. Papers are submitted to various indexing services such as Web of Science, Google Scholar and Scopus. All conference books are listed in the British Library and American Library of Congress.
Conference Proceedings
At registration, delegates will be given copies of the papers presented at the Conference on a USB Flash drive. Following the Conference, delegates will receive an electronic copy of the final publication in which their paper has been published.
Digital Archive
All conference papers are archived online in the WIT eLibrary (www.witpress.com/elibrary) where they are permanently and freely available to the International Scientific Community.
Networking
Participants can present their research and interact with experts from around the world, as part of a unique community.
Reduced Fee for PhD Students
The Wessex Institute believes in the importance of encouraging PhD students to present and publish innovative research at its conferences. As a result, the Institute offers PhD students a much-reduced conference fee.
Publication of Papers
Papers presented at River Basin Management 2019 are to be published by WIT press in a Volume of WIT Transactions. Selected papers will appear in an issue of the International Journal of Sustainable Development and Planning (ISSN: 1743-7601; Digital ISSN: 1743-761X).
All conference papers are archived online in the WIT eLibrary (www.witpress.com) where they are permanently and freely available to the international scientific community.
WIT Transactions have since 1993 been publishing exceptional conference papers which are referenced by CrossRef and have been indexed in international databases. All conference books are catalogued and archived in the British Library and American Library of Congress.
Open Access
WIT strongly believes that removing the barrier to research published online will greatly aid progress in all scientific and technical disciplines, as well as all other spheres of knowledge. Most WIT conference and all journal papers are freely available online.
Location Information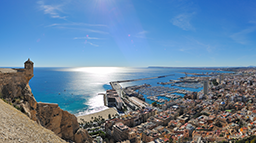 Located on the east coast of Spain and a part of the Costa Blanca, Alicante is a city, which combines history with its lively coastline and beaches. The popular Postiguet beach and excellent climate attract many tourists every year; however, the city has much more to offer with an old centre containing historic churches, art and archaeological museums, and traditional narrow shopping streets with many bars, restaurants and cafes.
Close to the old town, the dramatic Castillo de Santa Barbara offers excellent views of the city and coastline from its elevated position on "Monte Bernacantil", and is one of Spain's largest medieval fortresses. It can be accessed by road, but there is also an elevator and, from the beach Playa de Postiguet, a tunnel that was carved into the rock. From the top of the mountain, you have a beautiful view of the city, the harbour, and, in the South, the Island of Tabarca.
The Basilica de Santa Maria is the oldest church in the city and dates to the 14th-16th Century. It was built in Valencian Gothic style over the remains of a former Moorish Mosque. The basilica had to be rebuilt following a fire in the 15th century. Its baroque facade is crowned by two asymmetrical towers – one built in the 14th century and the other in the 18th century. Highlights include the doorway with its image of the Virgin Mary by sculptor Juan Bautista Borja. Inside it boasts an 18th-century rococo main altar and the Bautismo, Inmaculada and Comunión chapels. The chapterhouse contains an enormous baptismal font from the 16th century and a Valencian baroque organ from 1653.
In addition to historical buildings, the city also hosts many varied events and fiestas throughout the year. One of the most important events in the city's diary is the Fogueres de Sant Joan Festival. This festivals origins lie in the tradition of burning useless objects with the arrival of the summer solstice.
Further information about Alicante can be found on the Alicante Tourist Information website: http://www.alicanteturismo.com/?lang=en
Travel Information
Conference venue address:
Sede Universitaria Ciudad de Alicante,
C/ San Fernando 40
03001 Alicante,
Spain
---
Alicante airport
Alicante International Airport (formerly known as El Altet, Alicante) is located 11km from the city centre and offers flights from most big European cities as well as connecting flights from Madrid and Barcelona (the two largest international airports in Spain).
Visit airport website to see all available destinations and airlines operating in Alicante:
http://www.aena.es/en/alicante-airport/index.html
Travelling from Alicante Airport to the city centre
By Bus: Bus C6 (operated by SU Bus) runs from outside Terminal 1 at Alicante airport every 20 minutes to the city centre throughout the day, seven days a week. It stops at Luceros and Mercado TRAM stations (lines 1, 2, 3 and 4), and at RENFE station.
The journey costs €3.86 (one-way) and takes approximately 35 minutes, connecting with both rail and tram stations. You can purchase your ticket on board with the driver.
By Taxi: Taxis are plentiful and can be found outside of arrivals. A taxi to the centre of Alicante will cost approximately 25€.
By Road: There are several hire companies at Alicante Airport including Avis, Hertz, Sixt and Europcar. To drive into the centre of Alicante you need to take the N-338 out of the airport which connects you to the N-332. From the N-332 follow the signs to Alicante.
---
Travelling to Alicante from other Major Spanish Cities
By Rail
Rail services from major Spanish cities operate to the central station, with Madrid approximately three and half hours away by train, and Barcelona a five-hour journey.
RENFE – Spanish Rail network - http://www.renfe.com/
By Road
Coaches to Alicante are available from many large cities across Spain including Madrid, Valencia and Granada. The city is well connected to the Spanish motorway network making coach travel from other cities simpler.
ALSA operates coaches between Alicante and most Spanish cities: https://www.alsa.com/en/web/bus/home
---
Moving around in Alicante
Many of the main attractions in Alicante are within walking distance of the centre, however, the city is also served by comprehensive bus and tram networks and taxis are plentiful. Tickets cost from 1.20€ for single bus journeys, and discount cards (TAM Cards) for multiple journeys can be purchased at the at the TAM office close to Mercado Station.
TRAM – Tram networks in Alicante - http://www.fgvalicante.com
---
Please note that all the information included above is correct as of August 2018. All prices and travel details are subject to change.
Venue Information
The conference will take place at one of the venues the University of Alicante has in the city centre. (Do not get confused with the main campus outside town)
Conference venue address:
Sede Universitaria Ciudad de Alicante,
C/ San Fernando 40
03001 Alicante,
Spain
Additional Information
Please use the links below to access additional information related to the conference. All links open in a new window.
Comments from delegates that have attended our conferences
Excellent conference. A group of professionals concerned about the destiny of the architectural heritage. Mariolly Dávila
The overall experience was great. The conference provided a platform for international collaborations and understanding. Well done to Wessex Institute Nor Hussain
I have been having an excellent experience with Wessex Institute Israel Felzenszwalb
First and foremost, I very much like the very professional way of organising so many congresses on such a wide range of topics and levels of complexity. Second, the mix of attendants/experts from all over the world leads to nice discussions and exchanges of ideas. Every time, there are things to learn and take home. Third, I like the very friendly, rather personal, atmosphere. Fourth, the limited number of attendants means that there are no crowds or messy situations. Fifth, everything is perfectly clear, from start to finish, there are no surprises. Sixth, the key organizer is a very amiable and accessible team player. There is no complex organisation with many levels of decision making Jaap Vleugel
Very interesting conference, the papers were well researched. Ihuoma Onungwa
The conference provided us with an intercultural and scientific exchange with respect to the current relevance of water research Mariza Abrameto (UNRN Argentina)
Quite interesting, good meetings, new colleagues from other countries, professionaly good to know more about WIT Conferences Vera Maria Lopes Ponçano
Great atmosphere with extensive interaction amongst delegates Derek Northwood
It was an interesting experience, meeting participants from other countries, exchanging ideas, deducting logical solution for serious problems related to sustainability and quality of life Dr. Maged Youssef
A great experience interacting with colleagues from all over the world on a personal level. It was interesting to learn about others' projects and affirm the value of the work we are doing in sustainable planning and development Julia Murphy
It's been a great experience attending the WIT Conference on Sustainable Development and Planning. The process of abstract and paper review has been smooth and well coordinated throughout. I would highly recommend next generation scholars to engage in the future conferences organised by WIT Sarbeswar Praharah
A great experience interacting with colleagues from all over the world on a personal level. It was interesting to learn about others' projects and affirm the value of the work we are doing in sustainable planning and development Julia Murphy
Very good conference and I will attend again and encourage my Faculty to attend Thomas C. Sammons
The experience in the conference was really good. The conference was well organized and I felt very confortable. The quality of the contents was very interesting. For sure I will attend the next conference Antonio José Tenza-Abril
A very fruitful and rewarding cooperation Germán Rodríguez Rodríguez
I have been having an excellent experience with Wessex Institute Israel Felzenszwalb
This was my first conference participation organized by Wessex Institute (WI) and I intend to get involved annually Dr Shadung Moja, South Africa
As always it was a very pleasant experience and I like the wide thematic and regional spread of the participants Michael Groll
My experience with the Wessex Institute was very good Domenica Mirauda
The organization and location was excellent as always Ekkehard Christoffels