Sustainable Tourism 2022
10th International Conference on Sustainable Tourism

25–27 May 2022
Online
Overview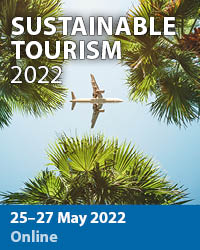 With the main objective to preserve our delegates' wellbeing, but also with the belief that the international contacts among the scientific community should not be stopped, WIT decided that Sustainable Tourism 2022 should not take place as scheduled in Tallinn, Estonia, but take place as an online event instead.
The conference was organised by the Wessex Institute, UK, represented by Dr Stavros Syngellakis and the University of La Laguna, Spain, represented by Pablo Diaz Rodriguez.
The conference, which started in Segovia, Spain in 2004 is well-established and always attracts a wide international spread of delegates.
Tourism has become an important component of present-day development, not only in economic terms but also for knowledge and human welfare, and is an activity accessible to a growing number of people. Tourist activities have many more advantages than disadvantages. New forms of economic development and increasing wealth of human societies depend on tourism.
The growth of tourism industry has nevertheless given rise to some serious concerns, including social costs and ecological impacts. Many ancient local cultures have practically lost their identity. Their societies have oriented their economy only to this industry. Both the natural and cultural - rural or urban – landscapes have also paid a high price for certain forms of tourism. These problems will persist if economic benefit is the only target, leading to short-term gains that eventually become ruinous.
Sustainable Tourism 2022 aimed to find ways to protect the natural and cultural landscape through the development of new solutions which minimise the adverse effects of tourism. This can be achieved through new strategies involving the active collaboration of society as a whole.
Opening of the Conference
The conference was opened by Prof Pablo Diaz Rodriguez from the University of La Laguna, Spain who welcomed the delegates to the event.
Invited Speakers
There were a series of invited lectures on advanced topics of research and applications, as follows:
New paradigm of spiritual tourism - adding an important layer to sustainable tourism
by L. Poggendorf, Toyo University, Japan


Strategic management of tourism sustainability through the Greek stakeholders' perspective on the impacts of events: the case of Patras' Carnival
by E. Pappa1, E. Didaskalou2, G. Kontogeorgis3 & I. Filos1
1University of Social and Political Sciences, Greece, 2University of Piraeus, Greece, 3Ionian University, Greece


The Importance of social interaction and Intercultural communication in tourism
by M. Dujmovic & A. Vitasovic, Juraj Dobrila University of Pula, Croatia


Rural tourism under the new normal: new potentials from a Japanese perspective
by Y. Ohe, Tokyo University of Agriculture, Japan


Fishing tourism and sustainability in Canary Islands (Spain)
by P. Diaz Rodriguez, A. Jonay & R. Darias, La Laguna University, Spain


Conference Sessions
The papers presented during the conference were classified under the following headings:
Tourism strategies


Tourism as a tool of development


Rural tourism


Case study
Q&A Live Zoom Sessions
Conference delegates were invited to participate in a Q&A live session which took place on Friday 27 May. This friendly session was a great opportunity for participants to interact with each other and ask the authors questions about their papers.
Conference Publication
Papers presented at this conference are published in Volume 256 of WIT Transactions on Ecology and the Environment (Electronic ISSN: 1743-3541). They are also available Open Access in the eLibrary of the Wessex Institute (https://www.witpress.com/elibrary) from where they can be freely downloaded by any interested parties.
Closing of the Conference
We are very sorry that we were not able to meet our delegates in person this time, but hope that we will be able to do so at a future event.