Introduction
The continuing and rapid growth of the cities and their regions of influence has led to the need to find new solutions which allow for promoting their sustainable development.
The quest for the Sustainable City has until recently focused on the efficient use of resources with the application of technical advances giving rise to the definition of SMART Cities. The economic model emphasised, however, is still "linear" in the sense that the design and consumption follow the pattern of extraction of natural resources, manufacturing, product usage and waste disposal.
The continuous growth of urban population has recently given rise to the emergence of a new model which responds better to the challenges of natural resource depletion as well as waste management. This model has been called the "circular economy".
The circular economy is a recent concept based on the reuse of what up to now has been considered wastes, reintroducing them into the productive cycle. The objective of the circular economy is to reduce consumption and achieve savings in terms of raw materials, water and energy, thus contributing to the preservation of resources in order to reach sustainable development.
The circular economy has its roots in environmental economics. Its objective is minimising resources in the production of goods and services. The idea is to implement the life cycle of products, services, waste, materials and energy. The concept needs to be embedded not only in the original design but also in all process phases and during production, which ought to be as efficient as possible.
One of the most important of these resources is water which is becoming a scarce commodity in an ever-expanding world whose population demands a better standard of living. Water is required for agricultural purposes as well as by industry, in addition to its use by the general population. The recycling of water is an essential component of the circular economy.
Closely associated with the concept of the sustainable city and the circular economy is the need to develop networks, not only within the City itself but also across other city regions to ensure governance based on cooperation.
There is no possibility for the success of a long-term economic policy without addressing the problems of natural resources and environmental pollution, which will affect the reuse of materials and products.
The current market economy based on a linear model from resource extraction, manufacturing, consumption and waste disposal, has not proved a long-term suitable solution, in spite of the substantial efforts made in reducing its environmental impacts. This is largely due to the continuous population growth, in a society that demands high standards of living, thus requiring an ever-increasing share of natural resources.
The basis of the circular economy can be summarised as follows:
• Eco-consumption: It starts with the evaluation of the possible environmental impacts of the process.
• Industrial Ecology: The industrial phase is based on the principle of optimisation of components, the flow of materials, energy and services.
• Economic Functionality: The process gives more importance to use than possession; ie to the sale of services rather than goods.
• Reuse: Aim to use waste to create new products. This phase also involves the repairs, recycling and value-added procedures to prolong the life of any given products or services.
The achievements of the goals proposed by the circular economy require the cooperation of the community, as well as technological changes and advances.
The need to base suitable development on the environmental, economic and social points of view, demands an integrated approach to solve the city problems including planning and development.
Conference Topics
The following list covers some of the topics to be presented at Urban Growth 2018. Papers on other subjects related to the objectives of the conference are also welcome.
Infrastructure and eco-architecture
Green urban areas
Landscape and planning
City heritage and its regeneration
Quality of life
Urban transport
Communications
Energy systems
Water reuse
Air contamination
Water pollution
Waste management
Noise pollution
Waste water systems
Risk analysis
Recreation in the city
Coastal cities
Socio-economic issues
Law and regulation
Production of goods and services
Consumption issues
Recycling
Urban agriculture
Urban mining
New design practices
Smart technologies
Mobility in the city
Safety aspects
Smart habitats
Systems resilience
Governance
Community participation
Benefits of Attending
Publication of Papers
Papers presented at Urban Growth 2018 are to be published by WIT Press in a Volume of WIT Transactions. Selected papers will appear in an issue of the International Journal of Sustainable Development and Planning instead.
Reviews
To ensure the quality of our publications, abstracts and papers are peer-reviewed by members of the International Scientific Advisory Committee and other experts, with manuscripts processed through CrossRef Similarity Check.
Open Access
WIT Press is an advocate of Open Access which offers maximum dissemination of your work. All WIT Transactions and Journal papers can be downloaded for free from the WIT eLibrary (www.witpress.com/elibrary).
Indexing and Archiving
Papers presented at Wessex Institute conferences are referenced by CrossRef and have appeared in notable reviews and databases. Papers are submitted to various indexing services such as Web of Science, Google Scholar and Scopus. All conference books are listed in the British Library and American Library of Congress.
Conference Proceedings
At registration, delegates will be given copies of the papers presented at the Conference on a USB Flash drive. Following the Conference, delegates will receive an electronic copy of the final publication in which their paper has been published.
Digital Archive
All conference papers are archived online in the WIT eLibrary (www.witpress.com/elibrary) where they are permanently and freely available to the International Scientific Community.
Networking
Participants can present their research and interact with experts from around the world, as part of a unique community.
Reduced Fee for PhD Students
The Wessex Institute believes in the importance of encouraging PhD students to present and publish innovative research at its conferences. As a result, the Institute offers PhD students a much-reduced conference fee.
---
*Google Scholar Indexation WIT Press has made all its conference and journal papers open access in an effort to help its dissemination within the scientific and technical community.
This means that you are now able to download any paper in the WIT eLibrary (www.witpress.com/elibrary) totally free and without having to pre-register.
This major development has the added benefit of allowing the Google Scholar search engines to fully index all WIT papers.
Google Scholar is a search engine created specifically for researchers to facilitate the indexation and citation of academic papers free of charge. This service is becoming the most accepted comprehensive benchmark and quality standard.
In Google Scholar you will be able to see the number of citations of your articles as well as the 'h-index' ranking for both author and publications. The h-index is the largest number h such that at least h articles (by the author or in a publication) were cited at least h times each.
The impact of your work is given by the 'i10 index' which refers to the number of publications within the last 10 years that have at least 10 citations.
You can also easily create within the system an Author's Profile which helps to highlight your achievements.
Google Scholar is becoming the most popular system in the world and its metrics are independent and unbiased. Unlike other ranking systems, it is free.
Publication of Papers
Papers presented at Conference 2018 are to be published by WIT press in a Volume of WIT Transactions. Selected papers will appear in an issue of the International Journal of Sustainable Development and Planning (ISSN:1743-7601; Digital ISSN:1743-761X).
All conference papers are archived online in the WIT eLibrary (www.witpress.com) where they are permanently and freely available to the international scientific community.
WIT Transactions have since 1993 been publishing exceptional conference papers which are referenced by CrossRef and have been indexed in international databases. All conference books are catalogued and archived in the British Library and American Library of Congress.
Open Access
WIT strongly believes that removing the barrier to research published online will greatly aid progress in all scientific and technical disciplines, as well as all other spheres of knowledge. Most WIT conference and all journal papers are freely available online.
Location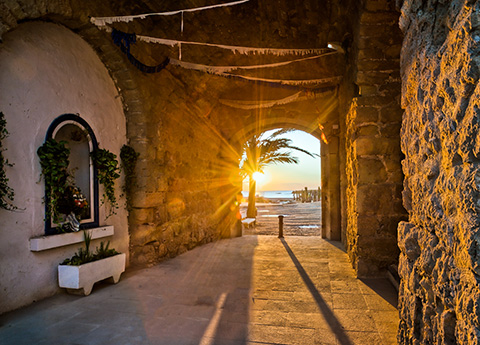 Located on the east coast of Spain and a part of the Costa Blanca, Alicante is a city which combines history with a lively coastline and beaches. The popular Postiguet beach and excellent climate attract many tourists every year; however the city has much more to offer with an old centre containing historic churches, art and archaeological museums, and traditional narrow shopping streets with many bars, restaurants and cafes. Close to the old town, the dramatic Santa Barbara Castle offers excellent views of the city and coastline from its elevated position, and is one of Spain's largest medieval fortresses. The city also plays host to many varied events and "fiestas" throughout the year.
Weather
With daytime temperatures between 20°C and 30°C, Alicante is hot and dry during spring and summer. Evenings tend to be cooler.
In Alicante
Museums and Galleries
The winner of the 2004 European Museum of the Year Award, the acclaimed Alicante Museum of Archeology (MARQ) is housed in the former San Juan de Dios de Alicante Provincial Hospital, and uses state-of-the art audiovisual facilities to present the history of the province from the palaeolithic to the modern era.
The Gravina Fine Arts Museum is one of Alicante's cultural landmarks, an 18th century Palacio where works are displayed chronologically with items contemporary to the art to add an extra dimension. Furniture and textiles can be found alongside paintings by Spanish artists from the 16th to 19th centuries. The Casa de la Asegurada is a smaller gallery exhibiting a frequently changing array of 20th century Spanish artwork, including works by Dali, Picasso and Miro. The gallery is housed in an un-spoilt Baroque townhouse in the old house. In addition, the Castillo de Santa Barbara is home to the Capa Collection of 20th century Spanish sculpture, and pieces can be found throughout the castle.
There are a number of other smaller museums and galleries dotted around the central area of Alicante.
Activities
Along the waterfront in central Alicante runs the Explanada, a wide esplanade shaded by palm trees and paved with intricate mosaics, lined with cafes offering views of the marina and beach. Close by, the large marina is easy to explore on foot and has several bars and cafes which are popular in the early evening. Postiguet beach is situated in very centre of the city, and many other beaches and coastal resorts are within a short distance of central Alicante and easy reach by bus or tram. The Costa Blanca is also a popular destination for golfers with a number of high-quality golf courses in the area.

Local towns
Elche
The third largest city in the region of Valencia, Elche is home to El Palmeral, a beautiful palm tree grove which has been awarded UNESCO world heritage status. Also recognised by UNESCO as an important cultural event, the Misteri d'Elx is a medieval festival celebrated through drama and music every summer in the city, and is hugely popular with both tourists and locals.
Guadalest
A fortified town in the mountainous area surrounding Alicante, El Castell de Guadalest offers spectacular views of the surrounding countryside and centers around the historic San Jose castle which entered through a small tunnel cut into rock of the hillside. A number of interesting museums can be found in the town, which itself has been declared a Monument of Historical and Artistic Value in Spain. The Moorish quarter, 'el Arrabal', contains many traditional narrow streets with shops and cafes.
Travel Information
Conference venue:
Sede Universitaria Ciudad de Alicante,
Av. Ramón y Cajal, 4
03001 Alicante
Spain
Please notice that this venue is not located at the main University of Alicante campus but in the old town of Alicante.
By Air
Alicante International Airport (formerly known as El Altet, Alicante) is located 11km from the city centre, and offers flights from many European cities as well as connecting flights from Madrid and Barcelona (the two largest international airports in Spain). The main airlines operating at Alicante include;
Iberia and Air Nostrum – offer flights from regional airports across Spain including Madrid (Ideal for connections outside of Europe)
Easyjet – flights from many UK airports as well as Basel and Geneva in Switzerland
Air Berlin – flights from many regional and international German airports
Transavia – regular flights from Amsterdam, Eindhoven and Rotterdam
British Airways – flights from London Gatwick and Manchester
Flybe and Thomas Cook – offer comprehensive timetables of flights to Alicante from airports across the UK
Air Europa – offers flights from Munich and Paris Orly
Finnair – flights from Helsinki
SAS Scandinavian Airlines – flights from several Norwegian airports
Ryanair – Ryanair flies to Alicante from cities in Belgium, Germany, Ireland, Italy, Morocco, the Netherlands, Norway, Slovakia, Poland, Sweden and the UK. It also connects to several regional Spanish airports including Santander, Santiago de Compostela, Valladolid, Seville and Zaragoza.
Other airlines:
KLM – Dutch airlines
Vueling
Norwegian Air International
Qatar Airways
Jet 2 - UK
Wizz Air - Hungarian
Aer Lingus - Ireland
Travelling from Alicante Airport
By Bus: Bus C-6 (operated by SU Bus) runs from outside Terminal 1 at Alicante airport every 20 minutes to the city centre throughout the day, seven days a week. The journey costs 1.50€ (one-way) and takes approximately 35 minutes, connecting with both rail and tram stations.
By Taxi: Taxis are plentiful and can be found outside of arrivals. A taxi to the centre of Alicante will cost approximately 25€.
By Road: There are several hire companies at Alicante Airport including Avis, Hertz, Sixt and Europcar. To drive into the centre of Alicante you need to take the N-338 out of the airport which connects you to the N-332. From the N-332 follow the signs to Alicante.
Travelling from other Major Spanish Cities
By Rail:Rail services from major Spanish cities operate to the central station, with Madrid approximately three and half hours away by train, and Barcelona a five hour journey.
RENFE – Spanish Rail network - http://www.renfe.com/
By Road:Coaches to Alicante are available from many large cities across Spain including Madrid, Valencia and Granada. The city is well connected to the Spanish motorway network making coach travel from other cities simpler.
Moving around in Alicante
Many of the main attractions in Alicante are within walking distance of the centre, however the city is also served by comprehensive bus and tram networks and taxis are plentiful. Tickets cost 1.20€ for single bus journeys, and discount cards (TAM Cards) for multiple journeys can be purchased at the at the TAM office close to Mercado Station.
TRAM – Tram networks in Alicante - http://www.fgvalicante.com
Please note that all information included above is correct at September 2017. All prices and travel details are subject to change.
Conference Venue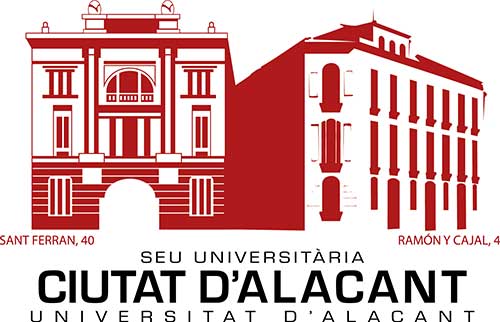 The meeting will take place at the conference facilities the University has in the city centre. A historic building located in front of the marina. Fully restored in recent years, the building is an excellent example of traditional Spanish architecture and is presently used to host events and university activities.
Address:
Sede Universitaria Ciudad de Alicante,
Av. Ramón y Cajal, 4
03001 Alicante
Spain
Accommodation
Below you can find a list of hotels within 15 min walking distance from the Conference Venue. Please note that you are responsible for booking your own accommodation and settling your own account.
Abba Centrum Alicante (4*) http://www.abbacentrumalicante.com
C/ Pintor Lorenzo Casanova 31, 03003 Alicante
Hotel Meliá Alicante (4*) http://www.solmelia.com
Plaza del Puerto 3, 03001, Alicante
Hotel Spa Porta Maris (4*) http://www.hotelspaportamaris.com
Plaza Puerta del Mar 3, 03002 Alicante
Hotel Rambla (2*) http://www.hotelrambla.es/en/
Avda. Rambla Mendez Nuñez 9, 03002 Alicante
Additional Information
Please use the links below to access additional information related to the conference. All links open in a new window.
Comments from delegates that have attended our conferences
Excellent conference. A group of professionals concerned about the destiny of the architectural heritage. Mariolly Dávila
The overall experience was great. The conference provided a platform for international collaborations and understanding. Well done to Wessex Institute Nor Hussain
I have been having an excellent experience with Wessex Institute Israel Felzenszwalb
First and foremost, I very much like the very professional way of organising so many congresses on such a wide range of topics and levels of complexity. Second, the mix of attendants/experts from all over the world leads to nice discussions and exchanges of ideas. Every time, there are things to learn and take home. Third, I like the very friendly, rather personal, atmosphere. Fourth, the limited number of attendants means that there are no crowds or messy situations. Fifth, everything is perfectly clear, from start to finish, there are no surprises. Sixth, the key organizer is a very amiable and accessible team player. There is no complex organisation with many levels of decision making Jaap Vleugel
Very interesting conference, the papers were well researched. Ihuoma Onungwa
The conference provided us with an intercultural and scientific exchange with respect to the current relevance of water research Mariza Abrameto (UNRN Argentina)
Quite interesting, good meetings, new colleagues from other countries, professionaly good to know more about WIT Conferences Vera Maria Lopes Ponçano
Great atmosphere with extensive interaction amongst delegates Derek Northwood
It was an interesting experience, meeting participants from other countries, exchanging ideas, deducting logical solution for serious problems related to sustainability and quality of life Dr. Maged Youssef
A great experience interacting with colleagues from all over the world on a personal level. It was interesting to learn about others' projects and affirm the value of the work we are doing in sustainable planning and development Julia Murphy
It's been a great experience attending the WIT Conference on Sustainable Development and Planning. The process of abstract and paper review has been smooth and well coordinated throughout. I would highly recommend next generation scholars to engage in the future conferences organised by WIT Sarbeswar Praharah
A great experience interacting with colleagues from all over the world on a personal level. It was interesting to learn about others' projects and affirm the value of the work we are doing in sustainable planning and development Julia Murphy
Very good conference and I will attend again and encourage my Faculty to attend Thomas C. Sammons
The experience in the conference was really good. The conference was well organized and I felt very confortable. The quality of the contents was very interesting. For sure I will attend the next conference Antonio José Tenza-Abril
A very fruitful and rewarding cooperation Germán Rodríguez Rodríguez
I have been having an excellent experience with Wessex Institute Israel Felzenszwalb
This was my first conference participation organized by Wessex Institute (WI) and I intend to get involved annually Dr Shadung Moja, South Africa
As always it was a very pleasant experience and I like the wide thematic and regional spread of the participants Michael Groll
My experience with the Wessex Institute was very good Domenica Mirauda
The organization and location was excellent as always Ekkehard Christoffels