Introduction
Air Pollution 2018 is the 26th Annual Meeting in the successful series of international conferences organised by the Wessex Institute dealing with Modelling, Monitoring and Management of Air Pollution.
The meetings in this series have discussed and considered many important air pollution issues and the international nature of the attendees has ensured that the conference findings and conclusions enjoy a wide and rapid dissemination amongst the air pollution science and policy communities. Air pollution issues remain one of the most challenging problems facing the international community. The series has demonstrated the widespread nature of the air pollution phenomena and has explored in depth their impacts on human health and the environment.
The scientific knowledge derived from well-designed studies needs to be allied with further technical and economic studies in order to ensure cost-effective and efficient mitigation. In turn, the science, technology and economic outcomes are necessary but not sufficient. Increasingly, the conference has recognised that the outcome of such research needs to be contextualised within well-formulated communication strategies that help policymakers and citizens to understand and appreciate the risks and rewards arising from air pollution management. Consequently, the series has enjoyed a wide range of high-quality papers that develop the fundamental science of air pollution and an equally impressive range of presentations that places these new developments within the frame of mitigation and management of air pollution.
This important conference brings together contributions from scientists from around the world to present recent work on various aspects of air pollution phenomena. Notable in each of the conferences in this series has been the opportunity to foster scientific exchange between participants. Each meeting has provided a further opportunity for identifying new areas of air pollution science demanding collaborative investigations.
These meetings have attracted outstanding contributions from leading researchers from around the world. The papers selected for presentation and included in the Conference Proceedings have been permanently stored in the WIT eLibrary (see www.witpress.com/elibrary) from where they can be freely downloaded. These collected papers provide an invaluable record of the development of science and policy pertaining to air pollution.
The series started in Mexico (1993) and continued in Barcelona (1994); Halkidiki (1995); Toulouse (1996); Bologna (1997); Genova (1998); San Francisco (1999); Cambridge, UK (2000); Ancona (2001); Segovia (2002); Catania (2003); Rhodes (2004); Cordoba (2005); New Forest (2006); Algarve (2007); Skiathos (2008); Tallinn (2009); Kos (2010); Malta (2011); A Coruna (2012); Siena (2013); Split (2014); Valencia (2015); Crete (2016) and Cadiz (2017).
Conference Topics
The following list covers some of the topics to be presented at Air Pollution 2018. Papers on other subjects related to the objectives of the conference are also welcome.
Air pollution modelling
Aerosols and particles
Emission studies
Health effects
Indoor air pollution
Air data quality
Monitoring and measuring
Air pollution control technologies
Industrial air pollution
Global and regional studies
Climate change effects
Emerging pollutants
Air pollution management, policy and legislation
Socio economic issues
Public engagement
Emerging technologies
Case studies
Benefits of Attending
Publication of Papers
Papers presented at Air Pollution 2018 are to be published by WIT Press in a Volume of WIT Transactions. Selected papers will appear in an issue of the International Journal of Environmental Impacts instead.
Reviews
To ensure the quality of our publications, abstracts and papers are peer-reviewed by members of the International Scientific Advisory Committee and other experts, with manuscripts processed through CrossRef Similarity Check.
Open Access
WIT Press is an advocate of Open Access which offers maximum dissemination of your work. All WIT Transactions and Journal papers can be downloaded for free from the WIT eLibrary (www.witpress.com/elibrary).
Indexing and Archiving
Papers presented at Wessex Institute conferences are referenced by CrossRef and have appeared in notable reviews and databases. Papers are submitted to various indexing services such as Web of Science, Google Scholar and Scopus. All conference books are listed in the British Library and American Library of Congress.
Conference Proceedings
At registration, delegates will be given copies of the papers presented at the Conference on a USB Flash drive. Following the Conference, delegates will receive an electronic copy of the final publication in which their paper has been published.
Digital Archive
All conference papers are archived online in the WIT eLibrary (www.witpress.com/elibrary) where they are permanently and freely available to the International Scientific Community.
Networking
Participants can present their research and interact with experts from around the world, as part of a unique community.
Reduced Fee for PhD Students
The Wessex Institute believes in the importance of encouraging PhD students to present and publish innovative research at its conferences. As a result, the Institute offers PhD students a much-reduced conference fee.
---
*Google Scholar Indexation WIT Press has made all its conference and journal papers open access in an effort to help its dissemination within the scientific and technical community.
This means that you are now able to download any paper in the WIT eLibrary (www.witpress.com/elibrary) totally free and without having to pre-register.
This major development has the added benefit of allowing the Google Scholar search engines to fully index all WIT papers.
Google Scholar is a search engine created specifically for researchers to facilitate the indexation and citation of academic papers free of charge. This service is becoming the most accepted comprehensive benchmark and quality standard.
In Google Scholar you will be able to see the number of citations of your articles as well as the 'h-index' ranking for both author and publications. The h-index is the largest number h such that at least h articles (by the author or in a publication) were cited at least h times each.
The impact of your work is given by the 'i10 index' which refers to the number of publications within the last 10 years that have at least 10 citations.
You can also easily create within the system an Author's Profile which helps to highlight your achievements.
Google Scholar is becoming the most popular system in the world and its metrics are independent and unbiased. Unlike other ranking systems, it is free.
Publication of Papers
Papers presented at Air Pollution 2018 are to be published by WIT press in a Volume of WIT Transactions. Selected papers will appear in an issue of the International Journal of Environmental Impacts (ISSN: 2398-2640; Digital ISSN:2398-2659).
All conference papers are archived online in the WIT eLibrary (www.witpress.com) where they are permanently and freely available to the international scientific community.
WIT Transactions have since 1993 been publishing exceptional conference papers which are referenced by CrossRef and have been indexed in international databases. All conference books are catalogued and archived in the British Library and American Library of Congress.
Open Access
WIT strongly believes that removing the barrier to research published online will greatly aid progress in all scientific and technical disciplines, as well as all other spheres of knowledge. Most WIT conference and all journal papers are freely available online.
Location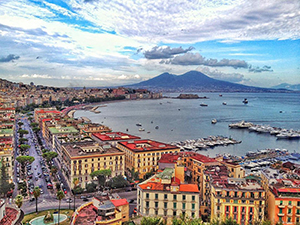 Situated in the southern Italian region of Campania, Naples is one of Italy's oldest and most important cities. The birthplace of some of Italy's most iconic foods and drinks, good restaurants and cafes are plentiful in Naples, serving fresh local seafood and regional specialities. The historic centre is recognised as a UNESCO World Heritage site and offers a wealth of interesting architecture, monumental castles and museums, as well as galleries exhibiting works by some of Italy's most distinguished Renaissance artists. The surrounding area and coastline provide picturesque views of Capri and numerous small islands, while nearby Mount Vesuvius and the Roman remains of Pompeii and Herculaneum remain some the most notable sites in southern Italy.
Venue
The conference will take place at Villa Doria d'Angri, a most beautiful palace built in 1880 on the commission of the Prince Marcantonio Doria. The palace is the expression of the greatest artists and craftsmen of the time and retains much of its former glory. The villa situated in the Posillipo area has recently been restored by the University with the help of the European Union to make it suitable to host international meetings, seminars and cultural events of particular importance.
Address:
Via Francesco Petrarca, 80,
80123 Napoli, Italy
+39 081 547 5417
Additional Information
Please use the links below to access additional information related to the conference. All links open in a new window.
Comments from delegates that have attended our conferences
Excellent conference. A group of professionals concerned about the destiny of the architectural heritage. Mariolly Dávila
The overall experience was great. The conference provided a platform for international collaborations and understanding. Well done to Wessex Institute Nor Hussain
I have been having an excellent experience with Wessex Institute Israel Felzenszwalb
First and foremost, I very much like the very professional way of organising so many congresses on such a wide range of topics and levels of complexity. Second, the mix of attendants/experts from all over the world leads to nice discussions and exchanges of ideas. Every time, there are things to learn and take home. Third, I like the very friendly, rather personal, atmosphere. Fourth, the limited number of attendants means that there are no crowds or messy situations. Fifth, everything is perfectly clear, from start to finish, there are no surprises. Sixth, the key organizer is a very amiable and accessible team player. There is no complex organisation with many levels of decision making Jaap Vleugel
Very interesting conference, the papers were well researched. Ihuoma Onungwa
The conference provided us with an intercultural and scientific exchange with respect to the current relevance of water research Mariza Abrameto (UNRN Argentina)
Quite interesting, good meetings, new colleagues from other countries, professionaly good to know more about WIT Conferences Vera Maria Lopes Ponçano
Great atmosphere with extensive interaction amongst delegates Derek Northwood
It was an interesting experience, meeting participants from other countries, exchanging ideas, deducting logical solution for serious problems related to sustainability and quality of life Dr. Maged Youssef
A great experience interacting with colleagues from all over the world on a personal level. It was interesting to learn about others' projects and affirm the value of the work we are doing in sustainable planning and development Julia Murphy
It's been a great experience attending the WIT Conference on Sustainable Development and Planning. The process of abstract and paper review has been smooth and well coordinated throughout. I would highly recommend next generation scholars to engage in the future conferences organised by WIT Sarbeswar Praharah
A great experience interacting with colleagues from all over the world on a personal level. It was interesting to learn about others' projects and affirm the value of the work we are doing in sustainable planning and development Julia Murphy
Very good conference and I will attend again and encourage my Faculty to attend Thomas C. Sammons
The experience in the conference was really good. The conference was well organized and I felt very confortable. The quality of the contents was very interesting. For sure I will attend the next conference Antonio José Tenza-Abril
A very fruitful and rewarding cooperation Germán Rodríguez Rodríguez
I have been having an excellent experience with Wessex Institute Israel Felzenszwalb
This was my first conference participation organized by Wessex Institute (WI) and I intend to get involved annually Dr Shadung Moja, South Africa
As always it was a very pleasant experience and I like the wide thematic and regional spread of the participants Michael Groll
My experience with the Wessex Institute was very good Domenica Mirauda
The organization and location was excellent as always Ekkehard Christoffels