Introduction
Risk Analysis 2016 is the 10th International Conference on Computer Simulation in Risk Analysis and Hazard Mitigation. Risk Analysis 2016 follows on from the other successful meetings in this series, which first started in Valencia, Spain (1998) and continued in Bologna, Italy (2000); Sintra, Portugal (2002); Rhodes, Greece (2004); Malta (2006); Cephalonia, Greece (2008); Algarve, Portugal (2010); the island of Brac in Croatia (2012) and more recently in the New Forest, home of the Wessex Institute (2014).
The conference covers a series of important topics of current research interests and many practical applications. It is concerned with all aspects of risk management and hazard mitigation, associated with both natural and anthropogenic hazards. Current events help to emphasise the importance of the analysis and management of risk to planners and researchers around the world. Natural hazards such as floods, earthquakes, landslides, fires and others have always affected human societies. The more recent emergence of the importance of man-made hazards is a consequence of the rapid technological advances made in the last few centuries. The interaction of natural and anthropogenic risks adds to the complexity of the problems.
The papers presented at the Risk Analysis conferences cover a variety of topics related to risk analysis and hazard mitigation. They are published as volumes of WIT Transactions on Information and Communication Technologies, which are widely disseminated around the world in both hard cover and digital formats. Furthermore all the papers are also archived in the WIT eLibrary (www.witpress.com/elibrary), where they are immediately and permanently available to the international scientific community.
Conference Topics
The following list covers some of the topics to be presented at Risk Analysis 2016. Papers on other subjects related to the objectives of the conference are also welcome.
Risk analysis and assessment
Risk prevention, management and control
Early warning systems
Risk mapping
Disaster management
Vulnerability assessment
Health risk
Case studies
Climate change
Flood hazards
Seismic risk
Other natural hazards
Construction risk management
Transport risk analysis
Safety and security
Evacuation simulation and design
Political and economic vulnerability
Social aspects of risk management
Community resilience
Benefits of Attending
Publication of Papers Papers presented at Risk Analysis 2016 are to be published by WIT press in a Volume of WIT Transactions. Selected papers will appear in a special Issue of the International Journal of Safety and Security Engineering (ISSN:2041-9031; Digital ISSN:2041-904X).
Reviews Abstracts and papers are reviewed by members of the International Scientific Advisory Committee and other experts.
Open Access WIT Press is an advocate of Open Access which offers maximum dissemination of your work. WIT Transactions and Journal papers can be downloaded for free (www.witpress.com/elibrary).
Indexing and Archiving Papers presented at Wessex Institute conferences are referenced by CrossRef and have appeared in notable reviews and databases. Papers are submitted to various indexing services such as Thomson Reuters Web of Science, Google Scholar*, Scopus and ProQuest. All conference books are listed in the British Library and American Library of Congress.
Conference Proceedings Delegates will receive a copy of the papers presented at the Conference on a USB Flash drive. The USB will, in addition, contain papers from previous conferences in this series. Following the Conference, authors will receive an electronic copy of the publication in which their paper has been published.
Digital Archive All conference papers are archived online in the WIT eLibrary (www.witpress.com) where they are easily and permanently available to the international scientific community.
Networking Participants can present their research and interact with experts from around the world, becoming part of a unique community.
Reduced Fee for PhD Students The Wessex Institute believes in the importance of encouraging PhD students to present and publish innovative research at their conferences. As a result, the Institute offers PhD students a much reduced conference fee.
---

*Google Scholar Indexation WIT Press has made all its conference and journal papers open access in an effort to help its dissemination within the scientific and technical community.
This means that you are now able to download any paper in the WIT eLibrary (www.witpress.com/elibrary) totally free and without having to pre-register.
This major development has the added benefit of allowing the Google Scholar search engines to fully index all WIT papers.
Google Scholar is a search engine created specifically for researchers to facilitate the indexation and citation of academic papers free of charge. This service is becoming the most accepted comprehensive benchmark and quality standard.
In Google Scholar you will be able to see the number of citations of your articles as well as the 'h-index' ranking for both author and publications. The h-index is the largest number h such that at least h articles (by the author or in a publication) were cited at least h times each.
The impact of your work is given by the 'i10 index' which refers to the number of publications within the last 10 years that have at least 10 citations.
You can also easily create within the system an Author's Profile which helps to highlight your achievements.
Google Scholar is becoming the most popular system in the world and its metrics are independent and unbiased. Unlike other ranking systems, it is free.
Registration
To register online for this conference please complete the registration form by clicking on the 'Register' button at the top or completing the form below.
Conference Fees
Includes conference proceedings, other documentation and refreshments.
Registration Fee, €890
Conference Chairmen, WIT Fellows and members of the Scientific Advisory Committee, €780
Students, €500
Publication of Papers
Papers presented at Risk Analysis 2016 are to be published by WIT press in a Volume of WIT Transactions. Selected papers will appear in a special Issue of the International Journal of Safety and Security Engineering (ISSN:2041-9031; Digital ISSN:2041-904X).
All conference papers are archived online in the WIT eLibrary (www.witpress.com) where they are easily and permanently available to the international scientific community.
WIT Transactions have since 1993 been publishing exceptional conference papers which are referenced by CrossRef and have been indexed in international databases. All conference books are catalogued and archived in the British Library and American Library of Congress.
Open Access
WIT strongly believes that removing the barrier to research published online will greatly aid progress in all scientific and technical disciplines, as well as all other spheres of knowledge. Most WIT conference and all journal papers are freely available online.
Crete, Greece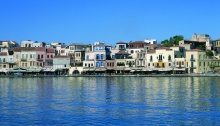 The largest and most southerly Greek island, Crete has preserved its unspoilt nature, local traditions and ancient monuments and is renowned for its 1100km of Mediterranean coastline. The Minoan culture, Europe's first advanced civilisation, developed on Crete between 2800 and 1000BC, and was later succeeded by Greco-Roman, Byzantine, Venetian and Ottoman influences, leading to a varied and beautiful traditional architecture. The Mediterranean landscape, which is the main draw for many of the island's visitors, encompasses a stunning coastline with excellent beaches, mountainous inland, and many dramatic features including the Samaria Gorge and Lassithi plateau.
Travel Information
By Air
The island of Crete has two international airports, both on the north coast and within easy reach of the main towns.
Chania International airport
Chania International airport is situated to the west of the island.
Aegean Airways provides daily flights to Athens (for International connections) as well Munich, Istanbul, Paris, London and Milan.
http://www.chania-airport.com/
Chania Airport to Chania
The public bus is the most economical transportation from / to the airport. Firstly take the airport bus from just outside from the terminal buildingTickets can be purchased on the bus. Buses leave at various times of the day to coincide with flight arrivals. The journey takes around 30 minutes and costs €2.50. More timetable information can be found here:
http://www.e-ktel.com/en/2-uncategorised/70-pros-aerodromio
Chania to Heraklion
From Chania you can take a bus to Heraklion bus station. Buses leave Chania once per hour, and the journey will take approximately 2 hours, 45 minutes and costs around €15.00. More timetable information can be found here:
http://www.e-ktel.com/en/2-uncategorised/67-apo-xania-fia-rethymno-hrakleio
Heraklion to Aldemar Royal Mare Hotel
From the main bus station near the marina in Heraklion, a convenient bus travels to hotels in Hersonissos, departing every 30 minutes from early morning until late evening. You can take any bus that states destination: Hersonissos, Stalis, Malia or Agios Nikolaos. Tickets cost around €4.00 each way. This part of the journey takes around 45 minutes.
Alternatively you could take a taxi from Heraklion directly to the hotel which costs between €30-€40.
Heraklion (Iraklion) International airport
Heraklion (Iraklion) International airport can be found in the centre of the island and provides regular flights to all major European cities, and quick transfers to Athens for connections to all major International airports.
From the UK, flights to Heraklion depart from London Gatwick airport and Manchester with Easyjet, and from Birmingham and Bristol with Monarch. Eurocyria Airways regularly fly from Bristol, Easyjet and Stansted to Heraklion. Additionally, regular charter flights operate from with Thomson Airways and Thomas Cook Airlines from many airports across the UK and Ireland, including Belfast, Cardiff, Gatwick, Stansted, Manchester and Newcastle throughout the summer.
Flights from all major German airports, Basel and Zurich in Switzerland, and Graz, Linz, Salzburg and Vienna in Austria are available with Air Berlin.
Condor offers flights to Heraklion from Berlin, Dusseldorf, Frankfurt, Hamburg, Munich and Stuttgart in Germany.
Regular flights run from Paris (Orly) and Amsterdam to Heraklion with Transavia.
German Wings fly to Heraklion from Berlin and Cologne in Germany.
http://www.heraklion-airport.info/
The Aldemar Royal Mare Village near Hersonissou is located 23km from Heraklion International airport and can easily reached by bus, taxi or hire car.
Bus from Heraklion Airport to Hersonissou
If you choose to travel by bus to the conference venue, a frequent service takes passengers from Heraklion airport to the main bus station near the marina in Heraklion, where a convenient bus travels to hotels in Hersonissou. For an additional charge, the Royal Mare Village Hotel operates a coach service from Heraklion town centre to the Hotel.
By Car
Several major hire car companies operate at both Heraklion and Chania airports in Crete, including Avis, Budget, Eurodollar and Hertz, and the hotel can be reached on main roads from the airports.
The journey from Chania airport by car takes around 2.5 hours via the following route:
VOAK/A90/E75 in Tsikalaria from EO Aerodromiou Soudas and Akrotiriou
Follow VOAK/E75 to Palea EO Irakliou Agiou Nikolaou/PEO90 in Gouves. Take the exit toward Old National Road from VOAK/E75
Continue on Palea EO Irakliou Agiou Nikolaou/PEO90 to your destination in Chersonisos
The journey from Heraklion airport takes around 20 minutes via VOAK/E75 and Palea EO Irakliou Agiou Nikolaou/PEO90 (see above)

Please note that all information included above is correct at September 2015. All prices and travel details are subject to change.
Conference Venue
The Aldemar Royal Mare is situated in a beautiful beachfront location, only 23km from Heraklion airport in Crete. The hotel sits in lush grounds, with two large outdoor swimming pools, and is a complex of attractive low-rise buildings only a short distance from the beach. The Royal Mare has ample facilities including an indoor swimming pool, tennis courts and fitness centre, as well as squash courts, sauna and a water sports centre on the waterfront. In addition, there are a range of restaurants serving different cuisines. These include the gourmet 'Candia' restaurant which serves traditional Mediterranean cuisine, the 'Albatros' restaurant with spectacular sea views, and the 'Symposio' restaurant which offers buffets prepared using fresh, local ingredients, and has a delightful outdoor terrace where guests can enjoy their meal.
Accommodation
Special accommodation rates have been negotiated at the Aldemar Royal Mare. Please ensure that you book your accommodation by completing the Accommodation Booking Form which can be found on the link below. We highly recommend that delegates stay at this hotel for ease of attendance to the meeting.
Address:
The Aldemar Royal Mare
Limenas Hersonissou,
Hersonissos,
Crete 70014,
Greece
Please note: All delegates are responsible for booking their own accommodation and settling their own accounts.
Visa Information
A Schengen Visa is the document issued for visiting/travelling in and within the Schengen Area. The Schengen Area is comprised of 26 countries that have agreed to allow free movement of their citizens within this area as a single country. Schengen visas are issued by the following countries: Austria, Belgium, Czech Republic, Denmark, Estonia, Finland, France, Germany, Greece, Hungary, Iceland, Italy, Latvia, Lithuania, Luxembourg, Malta, Netherlands, Norway, Poland, Portugal, Slovakia, Slovenia, Spain, Sweden, Switzerland and Liechtenstein. If you intend to visit one of the Schengen countries for business, as a tourist or for a personal/private visit, you must first obtain a Schengen visa, unless your country is part of the Shengen territory or has a special agreement. You can check which whether citizens of your country require Shengen VISA here: http://www.schengenvisainfo.com/who-needs-schengen-visa/
You should apply to the Embassy or Consulate in your country of residence (unless you are resident in Ireland).
If you intend to visit only one Schengen country, apply to the Embassy or Consulate of that country.
If you intend to visit several of the Schengen countries, you must apply for a visa at the Embassy or Consulate of the country in which your main destination is situated (longest duration of stay).

Processing time: Your application should be lodged at the Embassy or Consulate at least 2 weeks before the proposed journey is undertaken. Requirements for a Schengen visa may vary slightly between the different Schengen countries. Please visit the following link for further information: http://www.schengenvisainfo.com/

Important information: Please notice that although every effort has been made to ensure the accuracy of the above information, it is your responsibility to check that the visa and travel requirements with the corresponding Embassy in your country.
Invitation Letters
If you require a letter of invitation for your visa application, please submit a request for a letter of invitation to the conference secretariat. Registration fees must be paid in order to be issued an invitation letter. Please make sure you read the cancellation policy stated in the registration form before sending your payment.

All letters of invitation will be sent to you by email and regular mail unless otherwise specified.
Please provide the following information in your request:
Title (Dr., Professor, Mr., Mrs., Miss, Ms, etc.)
Your full name (Please specify family name and given name)
Organization
Full mailing address
Additional information such as if you are presenting a paper at the Conference
We cannot provide visa letters for spouses or guests, however we can include their name on your letter
Additional Information
Please use the links below to access additional information related to the conference. All links open in a new window.