Introduction
AFM 2018 is the 12th International Conference on Advances in Fluid Mechanics. The meeting is reconvened following the success of all previous conferences in the series, the first of which took place in New Orleans (1996), followed by Udine (1998); Montreal (2000); Ghent (2002); Lisboa (2004); Skiathos (2006); the New Forest, home of the Wessex Institute (2008); The Algarve (2010); Split (2012); A Coruña (2014) and Ancona (2016).
The success of the Conference continues to attract high-quality contributions presenting original results. The evolution of the meeting is reflected in the variety of topics and applications published in the conference book series since its beginnings in 1996.
The field of fluid mechanics is vast and has numerous and diverse applications. The conference covers a wide range of topics, including basic formulations and their computer modelling as well as the relationship between experimental and analytical results. The emphasis is on new applications and research currently in progress.
The papers – like others presented at Wessex Institute conferences – are part of the WIT Transactions in Engineering Sciences series and are archived online in the WIT eLibrary (www.witpress.com/elibrary), where they are freely available to the international scientific community.
The object of the meeting is to provide a forum for discussing new work in fluid mechanics and, in particular, for promoting the interchange of new ideas and the presentation on the latest applications in the field.
Conference Topics
The following list covers some of the topics to be presented at AFM 2018. Papers on other subjects related to the objectives of the conference are also welcome.
Computational methods
Boundary elements and other mesh reduction methods
Fluid structure interaction
Cooling of electronic devices
Environmental fluid dynamics
Industrial applications
Energy systems
Nano and micro fluids
Turbulent and complex flows
Jets
Droplet and spray dynamics
Bubble dynamics
Multiphase fluid flow
Pumping and fluid transportation
Experimental measurements
Rheology
Chemical reaction flow
Hydroelectromagnetic flow
High speed flow
Wave theory
Energy conversion systems
Benefits of Attending
Publication of Papers
Papers presented at AFM 2018 are to be published by WIT Press in a Volume of WIT Transactions. Selected papers will appear in an issue of the International Journal of Computational Methods and Experimental Measurements.
Reviews
To ensure the quality of our publications, abstracts and papers are peer-reviewed by members of the International Scientific Advisory Committee and other experts, with manuscripts processed through CrossRef Similarity Check.
Open Access
WIT Press is an advocate of Open Access which offers maximum dissemination of your work. All WIT Transactions and Journal papers can be downloaded for free from the wit elibrary (www.witpress.com/elibrary).
Indexing and Archiving
Papers presented at Wessex Institute conferences are referenced by CrossRef and have appeared in notable reviews and databases. Papers are submitted to various indexing services such as Web of Science, Google Scholar and Scopus. All conference books are listed in the British Library and American Library of Congress.
Conference Proceedings
At registration, delegates will be given copies of the papers presented at the Conference on a USB Flash drive. Following the Conference, delegates will receive an electronic copy of the final publication in which their paper has been published.
Digital Archive
All conference papers are archived online in the WIT eLibrary (www.witpress.com/elibrary) where they are permanently and freely available to the International Scientific Community.
Networking
Participants can present their research and interact with experts from around the world, as part of a unique community.
Reduced Fee for PhD Students
The Wessex Institute believes in the importance of encouraging PhD students to present and publish innovative research at its conferences. As a result, the Institute offers PhD students a much-reduced conference fee.
---
*Google Scholar Indexation WIT Press has made all its conference and journal papers open access in an effort to help its dissemination within the scientific and technical community.
This means that you are now able to download any paper in the WIT eLibrary (www.witpress.com/elibrary) totally free and without having to pre-register.
This major development has the added benefit of allowing the Google Scholar search engines to fully index all WIT papers.
Google Scholar is a search engine created specifically for researchers to facilitate the indexation and citation of academic papers free of charge. This service is becoming the most accepted comprehensive benchmark and quality standard.
In Google Scholar you will be able to see the number of citations of your articles as well as the 'h-index' ranking for both author and publications. The h-index is the largest number h such that at least h articles (by the author or in a publication) were cited at least h times each.
The impact of your work is given by the 'i10 index' which refers to the number of publications within the last 10 years that have at least 10 citations.
You can also easily create within the system an Author's Profile which helps to highlight your achievements.
Google Scholar is becoming the most popular system in the world and its metrics are independent and unbiased. Unlike other ranking systems, it is free.
Publication of Papers
Papers presented at AFM 2018 are to be published by WIT press in a Volume of WIT Transactions. Selected papers will appear in an issue of the International Journal of Computational Methods and Experimental Measurements (ISSN: 2046-0546; Digital ISSN:2046-0554).
All conference papers are archived online in the WIT eLibrary (www.witpress.com) where they are permanently and freely available to the international scientific community.
WIT Transactions have since 1993 been publishing exceptional conference papers which are referenced by CrossRef and have been indexed in international databases. All conference books are catalogued and archived in the British Library and American Library of Congress.
Open Access
WIT strongly believes that removing the barrier to research published online will greatly aid progress in all scientific and technical disciplines, as well as all other spheres of knowledge. Most WIT conference and all journal papers are freely available online.
Location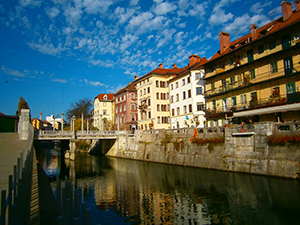 As the capital of Slovenia, the cosmopolitan city of Ljubljana is a combination of two thousand years of heritage and todays youthful enthusiasm. The active 50,000 student population means the city's museums, hotels and restaurants are among the best in the country. Ljubljana's rich culture, demonstrates buildings, bridges and road systems from its Roman beginnings through the Renaissance, Baroque and Art Nouveau periods. This diverse city hosts over 10,000 cultural events each year, including 10 international festivals from music and theatre to fine art.
Ljubljana is a compact city and you will be amazed by the abundance of green parks and renaissance, baroque and modern architecture. Markets and cultural events give the city an unforgettable spirit of peace and harmony.
The major tourist attraction is arguably Ljubljana castle, but there are many other castles and manors in the city and its immediate area. It was built in the middle of the 15th century, and offers an outstanding view over the city, a romantic atmosphere and a place of numerous cultural events. Its main purpose was to defend against Turkish invasions, which were the most frequent in the 15th and 16th century. In the 17th and 18th century the castle had the function of a military hospital and an arsenal. When in 1809 Napoleon brought freedom and cultural and national enlightenment to the citizens of Ljubljana, the war with the Habsburgs broke out. During this war the Pipers tower was demolished and a new wooden one erected on the place of today`s stone one. Guided tours of the castle are conducted every day. It is free to enter the castle courtyard where you can enjoy a drink and cake. In the castle there are art exhibitions and guided tours and sometimes events, films and shows in the castle grounds at night. You can get there on foot, on a tourist road train or by funicular railway. During July the castle is open until 11pm.
Ljubljana offers various museums on the history of Slovenia and Yugoslavia, as well as its architecture, art and other interesting themes.
If you feel like a splash then visit Atlantis, Ljubljana's aqua park is one of the biggest indoor parks in Europe and offers pools, saunas, massages and a solarium. It is situated within BTC City, a shopping and entertainment area 5 km North-East from the city centre, meaning you don't have to end the day too soon to travel home.
To truly feel the city's atmosphere and its people, visit the city open market. It is one of the masterpieces of Joze Plecnik's architecture and located by the river, where its monumental arcades connect the Triple and Dragon bridges. With the cathedral of St. Nicholas and baroque surroundings it seamlessly melts into the Old Town.
Tivoli Park is the biggest park in Ljubljana, which was created in 1813 and later redesigned by Joze Plecnik, today boasts around 5 sq km of forest. The 'Lungs of the city', as it's also called, is a place that connects the city to nature. It is a place of some variety where everybody can find something that appeals, with monuments, spaces to play various sports and recreational activities.
Krizanke is a relatively extensive monastic monument, located at French Revolution Square, next to the City Museum. It was built by Teutonic Knights in the 13th century, while centuries later baroque renovations and Plecnik's designs gave it its final image. Today as a place of open-air theatre it attracts hordes of people during the summer time to numerous concerts, plays and other cultural performances. It is a place of art, history and inspiration and also houses a bar with food and drinks. You can buy tickets and check the programme of cultural events online.
Because of its geographical position, caught between the Alps, the Mediterranean and the Panonian Plain, Slovenia is a paradise for European botanists. The Botanical Garden of Ljubljana was founded in 1810, which makes it the oldest garden of its kind in the South East of Europe, and contains around 5000 different plants from all over the world. Entrance is free unless you want a guided tour.
Culinary attractions
Slovenia lies at the meeting point of the Alpine, Pannonian and Mediterranean regions, whose cultural features are reflected in the choice of Slovenian cuisine. It is evident that traditional dishes are generally of rural origin, but nevertheless Slovenian cuisine is not without refinement and the element of surprise.
"Gostilna" restaurants are traditional places to enjoy good food and wine in good company. Gostilnas often serve dishes prepared to old recipes using local ingredients. As Slovenian countryside is dotted with mainly small family farms and large-scale agricultural production is scarce, food ingredients are relatively healthy and often organically grown.
Enjoying home-grown fruits, vegetables and other local farm produce is an important part of the way of life in Slovenia. Ljubljanians love to shop at the city's colourful and picturesque Central Market, designed by the architect Jože Plečnik. Also other food markets are generally popular and well stocked. In people's minds, organic and healthy food is closely connected with the concept of "home-grown". Among the popular novelties of recent times, for instance, are milk dispensers offering locally produced whole milk at a low price.
Traditional Slovene dishes
Kranjska klobasa (Carniolan sausage) is the best known Slovenian speciality. The earliest known mention of a sausage referred to as "kranjska klobasa" dates back to 1896. (Typical of Alpine Slovenia, the region of Gorenjska.) Prekmurska gibanica (Prekmurje layered cake) is a moist dessert consisting of layers of poppy seed, cottage cheese, walnut and apple filling. It is protected under the Traditional Speciality Guaranteed designation and can only be sold under its name when prepared according to the traditional recipe. (Typical of Pannonian Slovenia, the region of Prekmurje.)
Kraški pršut (Kras prosciutto) is dry-cured pork leg. It goes particularly well with a glass of Kras Teran, a red wine grown in the Kras region and well known for its healing properties. The prosciutto labelled as Protected Geographical Indication is a top quality product made on the basis of the centuries-long tradition of salting meat and drying it in bora, a fierce cold northeasterly wind blowing across Kras. (Typical of the coastal Slovenia and the Kras region.)
Štruklji is a traditional Slovenian boiled or baked dough roll with a variety of different sweet or savoury filling options, served either as a main or side dish. The best known are tarragon, cottage cheese, walnut, apple and poppy seed štruklji. (Typical of central Slovenia.)
Potica, a yeast-dough cake with a variety of filling options, is the most typical Slovenian dessert. The best known of over 80 varieties are tarragon, walnut, crackling and poppy seed poticas. (Typical of central Slovenia.)
Žganci is a traditional Slovenian peasant dish made from flour and served as a stand-alone or side dish. (Typical of central Slovenia.)
Travel Information
Conference Venue:
Best Western Premier Hotel Slon
Slovenska cesta 34
1000 Ljubljana
Slovenia
VISA - Please ensure that you are aware of the entry requirements to visit Slovenia and apply for VISA if necessary. Further information can be found here http://www.mzz.gov.si/en/entry_and_residence/entry_into_slovenia/

By Air
Ljubljana airport is situated 20 km north of Ljubljana in the direction of Kranj, in Brnik. The international airport code is LJU. Previously known as Brnik Airport, recently it has been renamed to Joze Pucnik Airport.
The main airlines operating at Ljubljana include:
Adria airways – the Slovenian airline that connects Ljubljana with more than 20 European cities including Amsterdam, Barcelona, Beograd, Berlin, Birmingham, Brussels, Copenhagen, Dublin, Frankfurt, Istanbul, London, Manchester, Moscow, Munich, Paris, Prague, Podgorica, Pristina, Rome, Sarajevo, Skopje, Split, Stockholm, Tirana, Warsaw, Vienna and Zurich.
www.adria-airways.com
Other airlines serving Ljubljana airport include:
Further information for Ljubljana airport can be found at: www.lju-airport.si
Travelling from the Airport to Ljubljana
Bus – The number 28 public bus operates to and from Ljubljana bus station and runs every hour from 05:00 until 20:00 Monday – Friday and every 2 hours from 07:00 until 20:00 on Saturday and Sunday. The journey takes 45 minutes, and a single journey costs 4.10€, you buy your tickets directly from the driver. There is also a private shuttle service running less frequently but it is a bit faster. The bus station in Ljubljana is small and situated immediately in front of the railway station.
Taxi – The cost of a taxi to Ljubljana is around 35€. The taxi rank is directly outside the terminal.
Car Hire - Many local and international car hire agencies have their outlets directly in the airport. The Rent-a-Car hall is situated opposite the arrivals, across the road. Competing car rental companies like Dollar/Thrifty, Atet Rent a Car, Sixt, National, Budget, Hertz, ABC rent a car, Europcar, AVIS are represented.
Travelling to Ljubljana by Rail
Slovenia has a developed network of railways, connecting Ljubljana with Graz and Klagenfurt (Austria) to the north and Trieste (Italy) to the west. The main train station in Ljubljana (in Slovenian: Zelezniska postaja) is relatively small, simply called "Ljubljana", is situated in the middle of the city, some 10 minutes walk to the old town.
See the Slovenian Railways website (Slovenske Zeleznice) for train schedules, also in English: www.slo-zeleznice.si
Maribor is Slovenia`s second largest city, and is an important connection for travel to Ljubljana. There are cheap flights from London landing at Maribor airport. Ljubljana and Maribor are well connected and trains run roughly every hour. The express train takes about 1 hour and 48 minutes, while the slower train is about 2 hours 20 minutes or longer. Some trains are direct, but usually you have to change in Zidani Most.
Travelling to Ljubljana by Road
Coaches to Ljubljana are available from many large cities across Slovenia.
The bus station is actually just a bus parking space situated in front of the train station. The station serves long distance buses, which during the day travel to many towns around Ljubljana, making them the ideal means of transport for a day trip. There is a small cashier's desk offering information and tickets, although often these things are directly available from the drivers. You can find bus schedules on their official web page.
Address: Trg OF (by the Railway Station)
Tel: +386 (0)1 2344600
www.ap-ljubljana.si
Getting around in Ljubljana
If you intend to use bus transportation in Ljubljana, you need to buy an Urbana card. You can get it for a one off charge of 2€ at tourist information centres, most city street kiosks and post offices hold it as well. One journey costs 1.20€ and allows you to change as many buses as you need in a time of 90 minutes.
Please note that all information included above is correct at August 2017. All prices and travel details are subject to change.
Conference Venue & Accommodation
The conference will take place at Hotel Slon – Elephant. The hotel is situated in the very heart of Ljubljana city centre. It is only a few steps away from the old city core, Ljubljana castle and all the main city sights.
This modern 4-star superior hotel has 170 comfortable and well-appointed rooms with all modern facilities and amenities. Deluxe rooms and suites offer luxurious accommodation. Its restaurant, Slon 1552, offers traditional Slovenian dishes refined with a hint of the Mediterranean.
Address:
Slovenska cesta 34,
1000 Ljubljana, Slovenia
Tel: +386 1 470 11 00
Additional Information
Please use the links below to access additional information related to the conference. All links open in a new window.
Comments from delegates that have attended our conferences
Excellent conference. A group of professionals concerned about the destiny of the architectural heritage. Mariolly Dávila
The overall experience was great. The conference provided a platform for international collaborations and understanding. Well done to Wessex Institute Nor Hussain
I have been having an excellent experience with Wessex Institute Israel Felzenszwalb
First and foremost, I very much like the very professional way of organising so many congresses on such a wide range of topics and levels of complexity. Second, the mix of attendants/experts from all over the world leads to nice discussions and exchanges of ideas. Every time, there are things to learn and take home. Third, I like the very friendly, rather personal, atmosphere. Fourth, the limited number of attendants means that there are no crowds or messy situations. Fifth, everything is perfectly clear, from start to finish, there are no surprises. Sixth, the key organizer is a very amiable and accessible team player. There is no complex organisation with many levels of decision making Jaap Vleugel
Very interesting conference, the papers were well researched. Ihuoma Onungwa
The conference provided us with an intercultural and scientific exchange with respect to the current relevance of water research Mariza Abrameto (UNRN Argentina)
Quite interesting, good meetings, new colleagues from other countries, professionaly good to know more about WIT Conferences Vera Maria Lopes Ponçano
Great atmosphere with extensive interaction amongst delegates Derek Northwood
It was an interesting experience, meeting participants from other countries, exchanging ideas, deducting logical solution for serious problems related to sustainability and quality of life Dr. Maged Youssef
A great experience interacting with colleagues from all over the world on a personal level. It was interesting to learn about others' projects and affirm the value of the work we are doing in sustainable planning and development Julia Murphy
It's been a great experience attending the WIT Conference on Sustainable Development and Planning. The process of abstract and paper review has been smooth and well coordinated throughout. I would highly recommend next generation scholars to engage in the future conferences organised by WIT Sarbeswar Praharah
A great experience interacting with colleagues from all over the world on a personal level. It was interesting to learn about others' projects and affirm the value of the work we are doing in sustainable planning and development Julia Murphy
Very good conference and I will attend again and encourage my Faculty to attend Thomas C. Sammons
The experience in the conference was really good. The conference was well organized and I felt very confortable. The quality of the contents was very interesting. For sure I will attend the next conference Antonio José Tenza-Abril
A very fruitful and rewarding cooperation Germán Rodríguez Rodríguez
I have been having an excellent experience with Wessex Institute Israel Felzenszwalb
This was my first conference participation organized by Wessex Institute (WI) and I intend to get involved annually Dr Shadung Moja, South Africa
As always it was a very pleasant experience and I like the wide thematic and regional spread of the participants Michael Groll
My experience with the Wessex Institute was very good Domenica Mirauda
The organization and location was excellent as always Ekkehard Christoffels