Introduction
River Basin Management 2017 is the 9th Conference in the series which marks the growing international interest in the planning, design and management of river basin systems.
River Basin Management includes all aspects of Hydrology, Ecology, Environmental Management, Flood Plains and Wetlands. Riverine systems are coming under increasing pressure due to anthropological and natural causes. Prominent amongst the problems affecting them is water scarcity and quality, which requires the development of improved methods for better river management.
Changes in the landscape, use of the land and climate conditions lead to a continuous revaluation of river basin management objectives. This requires the development of better measuring tools as well as the use of increasingly accurate computer software.
Catastrophic events such as floods and associated landslides, erosion and sedimentation can have serious effects not only on life and property but also on the basin ecology. Frequently these problems are aggravated by the unforeseen consequences of man made changes in the river basin. This has led in recent years to work on river restoration and rehabilitation with various degrees of success.
The first River Basin Management conference took place in Cardiff, UK in 2001, followed by meetings in Las Palmas, Gran Canaria (2003); Bologna, Italy (2005); Kos, Greece (2007); Malta (2009); Riverside, California (2011); The New Forest, UK (2013), home of the Wessex Institute and A Coruna, Spain (2015).
The objective of this series of conferences is to bring together practitioners and researchers in academia and industry in the hope that their interaction will foster mutual understanding and lead to better solutions for river basins.
The papers corresponding to all the conferences have been archived in digital form at http://www.witpress.com/elibrary where they are permanently available to the international community.
Conference Topics
The following list covers some of the topics to be presented at River Basin Management 2017. Papers on other subjects related to the objectives of the conference are also welcome.
Water resources management
Flood risk management
Ecological and environmental impact
Erosion and sediment transport
Hydrological modelling
River restoration and rehabilitation
Hydropower issues and development
River and watershed management
Water quality issues
Organic contamination management
Agricultural pollution
Transboundary water issues
Estuaries and deltas
Climate change
Water quality and health
Socio-economic issues
Water governance and policies
Data acquisition, management and analysis
Remote sensing
Hydraulic structures
Experimental measurements
Rain water management
Water energy nexus
Drought assessment and management
Ecosystem services
Benefits of Attending
Publication of Papers Papers presented at River Basin Management 2017 are to be published by WIT press in a Volume of WIT Transactions. Selected papers will appear in a special Issue of the International Journal of Sustainable Development and Planning (ISSN:1743-7601; Digital ISSN:1743-761X).
Reviews Abstracts and papers are reviewed by members of the International Scientific Advisory Committee and other experts.
Open Access WIT Press is an advocate of Open Access which offers maximum dissemination of your work. WIT Transactions and Journal papers can be downloaded for free (www.witpress.com/elibrary).
Indexing and Archiving Papers presented at Wessex Institute conferences are referenced by CrossRef and have appeared in notable reviews and databases. Papers are submitted to various indexing services such as Thomson Reuters Web of Science, Google Scholar*, Scopus and ProQuest. All conference books are listed in the British Library and American Library of Congress.
Conference Proceedings Delegates will receive a copy of the papers presented at the Conference on a USB Flash drive. The USB will, in addition, contain papers from previous conferences in this series. Following the Conference, authors will receive an electronic copy of the publication in which their paper has been published.
Digital Archive All conference papers are archived online in the WIT eLibrary (www.witpress.com) where they are easily and permanently available to the international scientific community.
Networking Participants can present their research and interact with experts from around the world, becoming part of a unique community.
Reduced Fee for PhD Students The Wessex Institute believes in the importance of encouraging PhD students to present and publish innovative research at their conferences. As a result, the Institute offers PhD students a much reduced conference fee.
---

*Google Scholar Indexation WIT Press has made all its conference and journal papers open access in an effort to help its dissemination within the scientific and technical community.
This means that you are now able to download any paper in the WIT eLibrary (www.witpress.com/elibrary) totally free and without having to pre-register.
This major development has the added benefit of allowing the Google Scholar search engines to fully index all WIT papers.
Google Scholar is a search engine created specifically for researchers to facilitate the indexation and citation of academic papers free of charge. This service is becoming the most accepted comprehensive benchmark and quality standard.
In Google Scholar you will be able to see the number of citations of your articles as well as the 'h-index' ranking for both author and publications. The h-index is the largest number h such that at least h articles (by the author or in a publication) were cited at least h times each.
The impact of your work is given by the 'i10 index' which refers to the number of publications within the last 10 years that have at least 10 citations.
You can also easily create within the system an Author's Profile which helps to highlight your achievements.
Google Scholar is becoming the most popular system in the world and its metrics are independent and unbiased. Unlike other ranking systems, it is free.
Abstract Submission
Abstracts of no more than 300 words should be submitted as soon as possible by clicking on the 'Submit an Abstract' button found at the top and bottom of this page. Abstracts should clearly state the purpose, results and conclusions of the work to be described in the final paper.
Once your abstract has been reviewed, you will be notified of the acceptance of your abstract and be given a submission date as well as instructions on how to prepare your paper.
Final acceptance will be based on the full-length paper, which if accepted for publication, must be presented at the conference.
We encourage early submission of abstracts and papers to facilitate registration and travel arrangements.
The language of the conference will be English.
Registration
To register online for this conference please complete the registration form by clicking on the 'Register' button at the top or bottom of this page. If you would prefer to print out a copy of the Registration Form, please download the PDF Registration Form below and return to the Conference Secretariat.
Conference Fees
Includes conference proceedings, other documentation and refreshments.
Registration Fee, €890
Conference Chairmen, WIT Fellows and members of the Scientific Advisory Committee, €780
Students, €500
Publication of Papers
Papers presented at River Basin Management 2017 are to be published by WIT press in a Volume of WIT Transactions. Selected papers will appear in a special Issue of the International Journal of Sustainable Development and Planning (ISSN:1743-7601; Digital ISSN:1743-761X).
All conference papers are archived online in the WIT eLibrary (www.witpress.com) where they are easily and permanently available to the international scientific community.
WIT Transactions have since 1993 been publishing exceptional conference papers which are referenced by CrossRef and have been indexed in international databases. All conference books are catalogued and archived in the British Library and American Library of Congress.
Open Access
WIT strongly believes that removing the barrier to research published online will greatly aid progress in all scientific and technical disciplines, as well as all other spheres of knowledge. Most WIT conference and all journal papers are freely available online.
Prague, Czech Republic
Prague is the capital city of the Czech Republic with a history dating back a millennium. Nicknamed "the City of a Hundred Spires", Prague is home to a number of famous cultural attractions, many of which survived the violence and destruction of European wars. The city sits amid the gentle landscapes of the Bohemian>plateau, straddling the Vltava River, which is the longest river in the Czech Republic. Main attractions include the Prague Castle, the Charles Bridge, the Old Town Square with the Prague astronomical clock and the Jewish Quarter. The historical centre of Prague has been listed in the UNESCO World Cultural and Natural Heritage Register since 1992. It is a city of culture boasting more than ten major museums, along with numerous theatres, cinemas, and other historical exhibits.


Charles Bridge

Prague's oldest bridge was built to replace the Judith Bridge that had been badly damaged by floods in 1342. The Stone, or Prague, Bridge, called Charles Bridge since 1870, was begun in 1357 by Charles IV and was completed in 1402. The bridge is built of sandstone blocks, flanked at each end by fortified towers (Lesser Town Bridge Towers, Old Town Bridge Tower). From 1683 to 1928, 30 statues of saints were carved to decorate the bridge, the most famous of which is the statue of St John of Nepomuk.
Prague Castle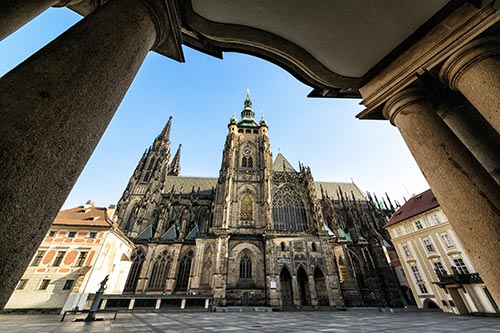 This Gothic cathedral, the spiritual symbol of the Czech state, was founded in 1344 on the site of the original Romanesque rotunda. The construction took nearly 600 years and was finally completed in 1929. Its impressive interior is home to such wonders as the beautifully decorated St. Wenceslas Chapel with the tomb of St Wenceslas, the crypt where Czech kings are buried, and the Crown Chamber, where the Crown Jewels are kept.

Wenceslas Square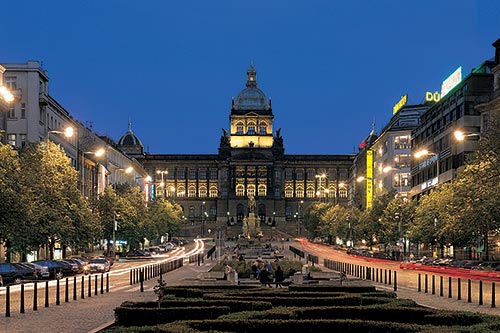 This square is the commercial and administrative centre of the city as well as the site of important social and historical events. Here you'll find cinemas, theatres, banks, hotels, restaurants, dozens of small and large shops, and administrative centres. The square was created during the founding of the New Town by Charles IV in 1348. Today it is dominated by the National Museum (1885 – 1891) and Josef Václav Myslbek's statue of the national patron St Wenceslas from 1912.


For more information about Prague visit Prague City Tourism: http://www.prague.eu/en
Conference Venue
The conference will take place at The Orea Hotel Pyramida, located within walking distance of Prague Castle and Strahov Monastery. The city centre is about 15 minutes away by public transport, the tram stop Malovanka is meters away from the hotel.
Visa Information
A Schengen Visa is the document issued for visiting/travelling in and within the Schengen Area. The Schengen Area is comprised of 26 countries that have agreed to allow free movement of their citizens within this area as a single country. Schengen visas are issued by the following countries: Austria, Belgium, Czech Republic, Denmark, Estonia, Finland, France, Germany, Greece, Hungary, Iceland, Italy, Latvia, Lithuania, Luxembourg, Malta, Netherlands, Norway, Poland, Portugal, Slovakia, Slovenia, Spain, Sweden, Switzerland and Liechtenstein
If you intend to visit one of the Schengen countries for business, as a tourist or for a personal/private visit, you must first obtain a Schengen visa, unless your country is part of the Shengen territory or has a special agreement. You can check which whether citizens of your country require Shengen VISA here: http://www.schengenvisainfo.com/who-needs-schengen-visa/
Where to apply:
You should apply to the Embassy or Consulate in your country of residence (unless you are resident in Ireland).
If you intend to visit only one Schengen country, apply to the Embassy or Consulate of that country.
If you intend to visit several of the Schengen countries, you must apply for a visa at the Embassy or Consulate of the country in which your main destination is situated (longest duration of stay).
Processing time: Your application should be lodged at the Embassy or Consulate at least 2 weeks before the proposed journey is undertaken.
Requirements for a Schengen visa may vary slightly between the different Schengen countries. Please visit the following link for further information: http://www.schengenvisainfo.com/
Important information: Please notice that although every effort has been made to ensure the accuracy of the above information, it is your responsibility to check that the visa and travel requirements with the corresponding Embassy in your country.
Invitation Letters
If you require a letter of invitation for your visa application, please submit a request for a letter of invitation to the conference secretariat.
Registration fees must be paid in order to be issued an invitation letter. Please make sure you read the cancellation policy stated in the registration form before sending your payment.
All letters of invitation will be sent to you by email and regular mail unless otherwise specified.
Please provide the following information in your request:
Title (Dr., Professor, Mr., Mrs., Miss, Ms, etc.)
Your full name (Please specify family name and given name)
Organization
Full mailing address
Additional information such as if you are presenting a paper at the Conference
We cannot provide visa letters for spouses or guests, however we can include their name on your letter
Additional Information
Please use the links below to access additional information related to the conference. All links open in a new window.