Introduction
ERES 2017 is the eleventh international conference in the series on Earthquake Resistant Engineering Structures organised by the Wessex Institute. The Meeting provides a unique forum for the discussion of basic and applied research in the various fields of earthquake engineering relevant to the design of structures.
Major earthquakes and associated effects such as tsunamis continue to stress the need to carry out more research on those topics. The problems will intensify as population pressure results in buildings in regions of high seismic vulnerability. A better understanding of these phenomena is required to design earthquake resistant structures and to carry out risk assessment and vulnerability studies.
The problem of protecting the built environment in earthquake-prone regions involves not only the optimal design and construction of new facilities, but also the upgrading and rehabilitation of existing structures including heritage buildings. The type of highly specialized retrofitting employed to protect the built heritage is an important area of research.
This conference will address these problems continuing to expand on the development of previous meetings in the series. Papers presented at ERES are an invaluable record of the state of the art in this field. Most of them are now freely available on the Wessex Institute eLibrary (http://www.witpress.com/elibrary) where they are a permanent record demonstrating the quality of the research presented at the ERES conference series.
The conference began in Thessaloniki, Greece in 1997, followed by Catania, Italy (1999); Malaga, Spain (2001); Ancona, Italy (2003); Skiathos, Greece (2005); Bologna, Italy (2007), Cyprus (2009), Tuscany, Italy (2011), A Coruña, Spain (2013), and Opatija, Croatia (2015).
Conference Topics
The following list covers some of the topics to be presented at ERES 2017. Papers on other subjects related to the objectives of the conference are also welcome.
Seismic hazard and tsunamis
Building performance during earthquakes
Vulnerability
Earthquake prediction
Seismic isolation and energy dissipation
Performance based design
Experimental studies
Dynamic analysis
Passive protection systems
Case studies
Numerical analysis
Monitoring and early warning systems
Lifelines and resilience
Forensic engineering
Safety engineering
Heritage structures
Earthquakes and landslides
Liquefaction
Innovative technologies
Paraseismic devices
Benefits of Attending
Publication of Papers Papers presented at ERES 2017 are to be published by WIT press in a Volume of WIT Transactions. Selected papers will appear in a special Issue of the International Journal of Safety and Security Engineering (ISSN:2041-9031; Digital ISSN:2041-904X).
Reviews To ensure the quality of our publications, abstracts and papers are peer reviewed by members of the International Scientific Advisory Committee and other experts, with manuscripts processed through CrossRef Similarity Check.
Open Access WIT Press is an advocate of Open Access which offers maximum dissemination of your work. WIT Transactions and Journal papers can be downloaded for free (www.witpress.com/elibrary).
Indexing and Archiving Papers presented at Wessex Institute conferences are referenced by CrossRef and have appeared in notable reviews and databases. Papers are submitted to various indexing services such as Thomson Reuters Web of Science, Google Scholar*, Scopus and ProQuest. All conference books are listed in the British Library and American Library of Congress.
Conference Proceedings Delegates will receive a copy of the papers presented at the Conference on a USB Flash drive. The USB will, in addition, contain papers from previous conferences in this series. Following the Conference, authors will receive an electronic copy of the publication in which their paper has been published.
Digital Archive All conference papers are archived online in the WIT eLibrary (www.witpress.com) where they are easily and permanently available to the international scientific community.
Networking Participants can present their research and interact with experts from around the world, becoming part of a unique community.
Reduced Fee for PhD Students The Wessex Institute believes in the importance of encouraging PhD students to present and publish innovative research at their conferences. As a result, the Institute offers PhD students a much reduced conference fee.
---

*Google Scholar Indexation WIT Press has made all its conference and journal papers open access in an effort to help its dissemination within the scientific and technical community.
This means that you are now able to download any paper in the WIT eLibrary (www.witpress.com/elibrary) totally free and without having to pre-register.
This major development has the added benefit of allowing the Google Scholar search engines to fully index all WIT papers.
Google Scholar is a search engine created specifically for researchers to facilitate the indexation and citation of academic papers free of charge. This service is becoming the most accepted comprehensive benchmark and quality standard.
In Google Scholar you will be able to see the number of citations of your articles as well as the 'h-index' ranking for both author and publications. The h-index is the largest number h such that at least h articles (by the author or in a publication) were cited at least h times each.
The impact of your work is given by the 'i10 index' which refers to the number of publications within the last 10 years that have at least 10 citations.
You can also easily create within the system an Author's Profile which helps to highlight your achievements.
Google Scholar is becoming the most popular system in the world and its metrics are independent and unbiased. Unlike other ranking systems, it is free.
Registration
To register online for this conference please complete the registration form by clicking on the 'Register' button at the top or bottom of this page. If you would prefer to print out a copy of the Registration Form, please download the PDF Registration Form below and return to the Conference Secretariat.
Conference Fees
Includes conference proceedings, other documentation and refreshments.
Registration Fee, €890
Conference Chairmen, WIT Fellows and members of the Scientific Advisory Committee, €780
Students, €500
Publication of Papers
Papers presented at ERES 2017 are to be published by WIT press in a Volume of WIT Transactions. Selected papers will appear in a special Issue of the International Journal of Safety and Security Engineering (ISSN:2041-9031; Digital ISSN:2041-904X).
All conference papers are archived online in the WIT eLibrary (www.witpress.com) where they are easily and permanently available to the international scientific community.
WIT Transactions have since 1993 been publishing exceptional conference papers which are referenced by CrossRef and have been indexed in international databases. All conference books are catalogued and archived in the British Library and American Library of Congress.
Open Access
WIT strongly believes that removing the barrier to research published online will greatly aid progress in all scientific and technical disciplines, as well as all other spheres of knowledge. Most WIT conference and all journal papers are freely available online.
Alicante, Spain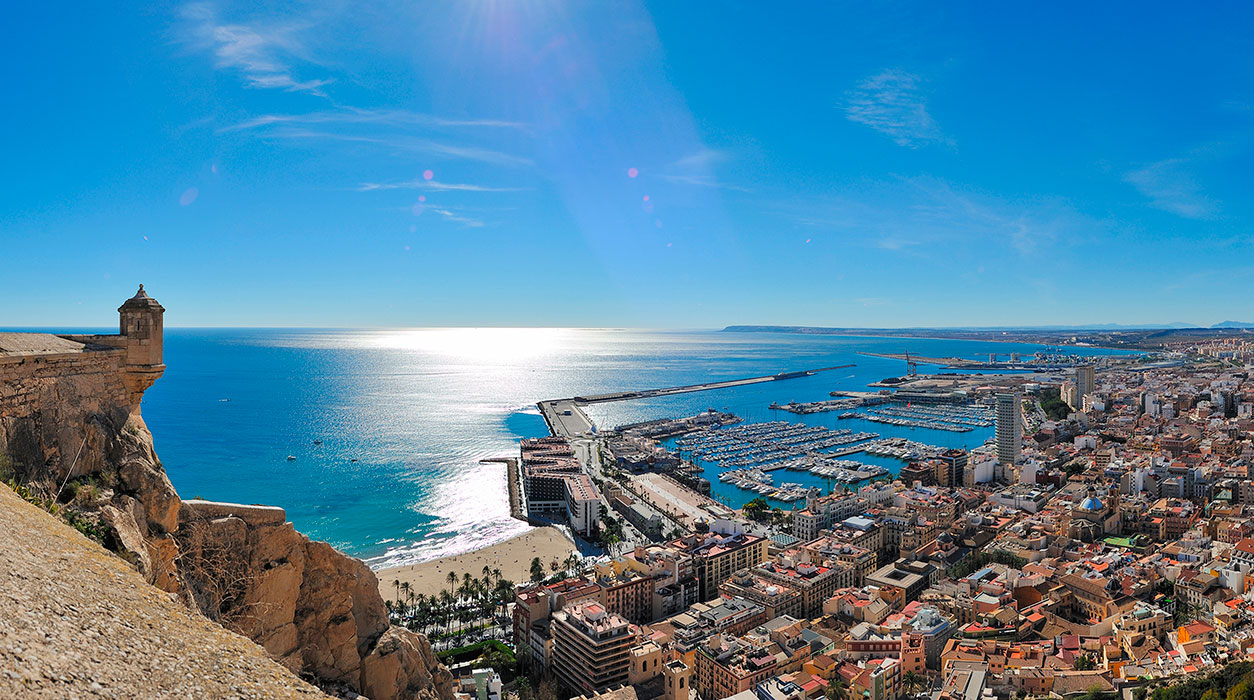 Located on the east coast of Spain and a part of the Costa Blanca, Alicante is a city which combines history with a lively coastline and beaches. The popular Postiguet beach and excellent climate attract many tourists every year; however the city has much more to offer with an old centre containing historic churches, art and archaeological museums, and traditional narrow shopping streets with many bars, restaurants and cafes. Close to the old town, the dramatic Santa Barbara Castle offers excellent views of the city and coastline from its elevated position, and is one of Spain's largest medieval fortresses. The city also plays host to many varied events and "fiestas" throughout the year.
Travel Information
By Air
Alicante El Altet International Airport is located 11km from the city centre, and offers flights to many European cities as well as connecting flights to Madrid and Barcelona (the two largest international airports in Spain). The main airlines operating at Alicante include;
Iberia and Air Nostrum – offer flights from regional airports across Spain including Madrid (Ideal for connections outside of Europe)
Easyjet – flights from many UK airports as well as Basel and Geneva in Switzerland
Air Berlin – flights from many regional and international German airports
Transavia – regular flights from Amsterdam, Eindhoven and Rotterdam
Monarch, Flybe, and Thomas Cook – offer comprehensive timetables of flights to Alicante from airports across the UK
Air Europa – offers flights from Munich and Paris Orly
Air Finland – flights from Helsinki
Scandinavian Airlines – flights from several Norwegian airports
Ryanair – Ryanair flies to Alicante from cities in Belgium, Germany, Ireland, Italy, Morocco, the Netherlands, Norway, Slovakia, Poland, Sweden and the UK. It also connects to several regional Spanish airports including Santander, Santiago de Compostela, Valladolid, Seville and Zaragoza.
From the airport
Bus C-6 (operated by SU Bus) runs from outside Terminal 1 at Alicante airport every 20 minutes to the city centre throughout the day, seven days a week. The journey costs €2.60 and takes approximately 35 minutes, connecting with both rail and tram stations. Taxis are plentiful and can be found outside of arrivals, and several major hire car companies including Avis, Budget, Hertz and Europcar are based at the airport. A taxi to the centre of Alicante will cost approximately €20.
By Rail
Rail services from major Spanish cities operate to the central station, with Madrid approximately three and half hours away by train and Barcelona a five hour journey.
RENFE – Spanish Rail network - http://www.renfe.com/
By Road
Coaches to Alicante are available from many large cities across Spain including Madrid, Valencia and Granada. The city is well connected to the Spanish motorway network for those wishing to travel by car.
In Alicante
Many of the main attractions in Alicante are within walking distance of the centre, however the city is also served by comprehensive bus and tram networks and taxis are plentiful. Tickets cost €1.20 for single bus journeys, and discount cards for multiple journeys can be purchased at the at the TAM office close to Mercado Station.
TRAM – Tram networks in Alicante - http://www.fgvalicante.com
Conference Venue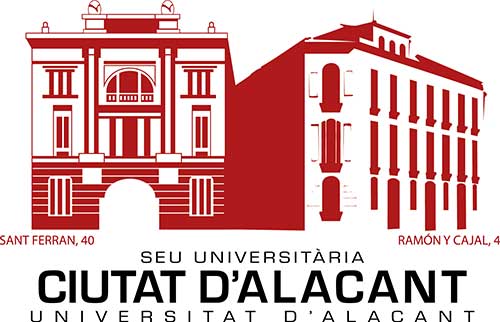 The conference will take place at the University of Alicante (at an off campus location) which was founded in October 1979. The University is located in the most strategic area of the province and has good transport links. The campus is one million square metres with the best urban design and innovative architecture in a framework of environmental excellence. The university has a firm commitment to innovation & technology, and culture & heritage.
Address:
Sede Universitaria Ciudad de Alicante,
Calle San Fernando 40
03001 Alicante,
Spain
Accommodation
Below you can find a list of hotels within 15 min walking distance from the Conference Venue. Please note that you are responsible for booking your own accommodation and settling your own account.
Abba Centrum Alicante (4*) http://www.abbacentrumalicante.com
C/ Pintor Lorenzo Casanova 31, 03003 Alicante
Hotel Meliá Alicante (4*) http://www.solmelia.com
Plaza del Puerto 3, 03001, Alicante
Hotel Spa Porta Maris (4*) http://www.hotelspaportamaris.com
Plaza Puerta del Mar 3, 03002 Alicante
Hotel Rambla (2*) http://www.hotelrambla.es/en/
Avda. Rambla Mendez Nuñez 9, 03002 Alicante
Visa Information
A Schengen Visa is the document issued for visiting/travelling in and within the Schengen Area. The Schengen Area is comprised of 26 countries that have agreed to allow free movement of their citizens within this area as a single country. Schengen visas are issued by the following countries: Austria, Belgium, Czech Republic, Denmark, Estonia, Finland, France, Germany, Greece, Hungary, Iceland, Italy, Latvia, Lithuania, Luxembourg, Malta, Netherlands, Norway, Poland, Portugal, Slovakia, Slovenia, Spain, Sweden, Switzerland and Liechtenstein
If you intend to visit one of the Schengen countries for business, as a tourist or for a personal/private visit, you must first obtain a Schengen visa, unless your country is part of the Shengen territory or has a special agreement. You can check which whether citizens of your country require Shengen VISA here: http://www.schengenvisainfo.com/who-needs-schengen-visa/
Where to apply:
You should apply to the Embassy or Consulate in your country of residence (unless you are resident in Ireland).
If you intend to visit only one Schengen country, apply to the Embassy or Consulate of that country.
If you intend to visit several of the Schengen countries, you must apply for a visa at the Embassy or Consulate of the country in which your main destination is situated (longest duration of stay).
Processing time: Your application should be lodged at the Embassy or Consulate at least 2 weeks before the proposed journey is undertaken.
Requirements for a Schengen visa may vary slightly between the different Schengen countries. Please visit the following link for further information: http://www.schengenvisainfo.com/
Important information: Please notice that although every effort has been made to ensure the accuracy of the above information, it is your responsibility to check that the visa and travel requirements with the corresponding Embassy in your country.
Invitation Letters
If you require a letter of invitation for your visa application, please submit a request for a letter of invitation to the conference secretariat.
Registration fees must be paid in order to be issued an invitation letter. Please make sure you read the cancellation policy stated in the registration form before sending your payment.
All letters of invitation will be sent to you by email and regular mail unless otherwise specified.
Please provide the following information in your request:
Title (Dr., Professor, Mr., Mrs., Miss, Ms, etc.)
Your full name (Please specify family name and given name)
Organization
Full mailing address
Additional information such as if you are presenting a paper at the Conference
We cannot provide visa letters for spouses or guests, however we can include their name on your letter
Additional Information
Please use the links below to access additional information related to the conference. All links open in a new window.