Introduction
The fourth International Conference on Defence Sites, Heritage and Future will be reconvened in 2018 in Malta following the success of the previous conferences which started in Portsmouth, UK (2012); followed by the Arsenale di Venezia, Italy (2014) and the last meeting at the University of Alicante, Spain (2016).
Redundant defence sites offer a range of opportunities to planners, architects and local communities to redevelop large areas, bringing new life to often neglected parts of towns. The opportunities are common to many countries and the papers to be presented at the conference will stress this common feature and help to share experiences of the transformation of defence sites to civilian uses around the world.
The conference objective is to raise the knowledge of the scale, design and functions of defence sites. It will bring a better understanding of the issues raised by their redundancy and the implications of different disposal processes for the land.
The re-use of defence sites also raises questions regarding the need to recover contaminated land which can have far-reaching legal responsibilities and environmental consequences.
Another aim of the conference is to discuss the need to achieve sustainable development which involves issues related to maintenance and conservation, as well as built and natural environmental controls while responding to the needs and aspirations of the community.
Papers presented at previous Defence Heritage Conferences as well as all other meetings organised by the Wessex Institute since 1993 are freely available in the WIT eLibrary (www.witpress.com/elibrary).
Conference Topics
The following list covers some of the topics to be presented at Defence Heritage 2018. Papers on other subjects related to the objectives of the conference are also welcome.
Military heritage history
Castles and fortresses
Fortified cities
Transition from military to civilian life
Fortified heritage, culture and tourism
Conservation and restoration
Case studies
Community involvement
Simulation and modelling
Economic analysis
Benefits of Attending
Publication of Papers
Papers presented at Defence Heritage 2018 are to be published by WIT Press in a Volume of WIT Transactions. Selected papers will appear in an issue of the International Journal of The Built Environment instead.
Reviews
To ensure the quality of our publications, abstracts and papers are peer reviewed by members of the International Scientific Advisory Committee and other experts, with manuscripts processed through CrossRef Similarity Check.
Open Access
WIT Press is an advocate of Open Access which offers maximum dissemination of your work. All WIT Transactions and Journal papers can be downloaded for free from the WIT eLibrary (www.witpress.com/elibrary).
Indexing and Archiving
Papers presented at Wessex Institute conferences are referenced by CrossRef and have appeared in notable reviews and databases. Papers are submitted to various indexing services such as Web of Science, Google Scholar and Scopus. All conference books are listed in the British Library and American Library of Congress.
Conference Proceedings
At registration delegates will be given copies of the papers presented at the Conference on a USB Flash drive. Following the Conference, delegates will receive an electronic copy of the final publication in which their paper has been published.
Digital Archive
All conference papers are archived online in the WIT eLibrary (www.witpress.com/elibrary) where they are permanently and freely available to the International Scientific Community.
Networking
Participants can present their research and interact with experts from around the world, as part of a unique community.
Reduced Fee for PhD Students
The Wessex Institute believes in the importance of encouraging PhD students to present and publish innovative research at its conferences. As a result, the Institute offers PhD students a much reduced conference fee.
---
*Google Scholar Indexation WIT Press has made all its conference and journal papers open access in an effort to help its dissemination within the scientific and technical community.
This means that you are now able to download any paper in the WIT eLibrary (www.witpress.com/elibrary) totally free and without having to pre-register.
This major development has the added benefit of allowing the Google Scholar search engines to fully index all WIT papers.
Google Scholar is a search engine created specifically for researchers to facilitate the indexation and citation of academic papers free of charge. This service is becoming the most accepted comprehensive benchmark and quality standard.
In Google Scholar you will be able to see the number of citations of your articles as well as the 'h-index' ranking for both author and publications. The h-index is the largest number h such that at least h articles (by the author or in a publication) were cited at least h times each.
The impact of your work is given by the 'i10 index' which refers to the number of publications within the last 10 years that have at least 10 citations.
You can also easily create within the system an Author's Profile which helps to highlight your achievements.
Google Scholar is becoming the most popular system in the world and its metrics are independent and unbiased. Unlike other ranking systems, it is free.
Publication of Papers
Papers presented at Defence Heritage 2018 are to be published by WIT press in a Volume of WIT Transactions. Selected papers will appear in an issue of the International Journal of Heritage Architecture (ISSN:2058-8321; Digital ISSN:2058-833X).
All conference papers are archived online in the WIT eLibrary (www.witpress.com) where they are permanently and freely available to the international scientific community.
WIT Transactions have since 1993 been publishing exceptional conference papers which are referenced by CrossRef and have been indexed in international databases. All conference books are catalogued and archived in the British Library and American Library of Congress.
Open Access
WIT strongly believes that removing the barrier to research published online will greatly aid progress in all scientific and technical disciplines, as well as all other spheres of knowledge. Most WIT conference and all journal papers are freely available online.
Location, Country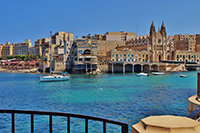 The Maltese Islands lie virtually at the centre of the Mediterranean, 93km south of Sicily and 288km north of Africa. The archipelago consists of three inhabited islands: Malta, Gozo and Comino as well as two uninhabited islands. In its history, Malta has acted as a safe harbour for refuge, an important trading point, a staging post for rest and replenishment and a vital military and naval base. In 1964 the islands gained their independence. Malta offers visitors an incredible amount of attractions within its historically interesting towns and villages including various museums of architecture and art, palaces, churches and gardens.
Weather
Malta experiences a typically Mediterranean climate, with July to September the warmest months. April and May are cooler, with day temperatures in the early 20 degrees Celsius. Summers are dry, so visitors can expect warm, dry days with temperatures during the evening and night tempered by cool breezes from the Mediterranean. There is very little rain from April until the end of August.
Places to Visit
Valetta
Valletta is the capital of Malta, and is both an administrative and cultural centre for the island, with many attractions and historical sights. The Palace of the Grand Masters is the seat of the Maltese government, and is open free of charge to visitors to view the building's impressive architecture as well as numerous works of art. On the ground floor can be found The Armoury, which houses one of the world's largest collections of arms and armour reflecting the different nations who have ruled Malta over past centuries. St Johns baroque co-Cathedral is of interest for its beautiful architecture, frescos, and paintings by Caravaggio, including the Beheading of St John, the largest work by the artist.
Also in Valletta can be found; the National Museum of Archeology, specializing in artifacts from prehistoric Malta; the National Fine Arts Museum which is home to a large number of Italian Baroque and eighteenth century pieces as well as works by prominent Maltese artists; and the National War Museum, dedicated to the history of Malta under British rule and during WWII. The Barrakka gardens are popular with visitors for their excellent views over the town and harbour.
Mdina
The old capital of Malta, Mdina is a charming medieval fortified town with traditional shopping streets, frequent festivals during the summer months and an interesting cathedral and museum. Mdina is widely regarded as one of Malta's top attractions and is famous for its glass production. The Palazzo Falzon is also home to a large collection of artwork.
Rabat
Rabat expanded under Roman rule to include impressive buildings including a Roman Villa, which has become a popular historical site on Malta and part of the Museum of Roman Antiquities. Later the town was home to several different religious groups who have left their mark in the form of the many churches and monasteries which can be found in the town. Close to Rabat are a number of notable catacombs including St. Paul's Grotto.
Gozo
The second largest island of the Maltese archipelago, Gozo is separated from Malta by a narrow channel. Cittadella and the surrounding town of Victoria are an excellent example of a medieval fortified citadel, and have a number of museums of interest to visitors. Other sites of interest on the island are Ggantija prehistoric temple, thought to be the oldest free-standing temple in the world, Mgarr war shelter where the inhabitants of Gozo sheltered in kilometers of underground tunnels during WWII and Calypso's cave where Odysseus was supposed to have spent seven years of his Mediterranean journey.
Gozo can be reached easily by ferry from Cirkewwa or Sa Maison (close to Valletta). Ferries depart frequently from both ports, with journey times of around 20 minutes from Cirkewwa or 75 minutes from Sa Maison. Also available from Sa Maison is a speedier hovercraft service to Mgarr.
Things to do
With 200km of coastline, Malta provides many opportunities for visitors including windsurfing, scuba diving, walking and sailing, enhanced by the year-round mild temperatures. The north of the island is renowned for its good sandy beaches, with that at Mellieha, close to the conference venue, being the most popular.
Conference Venue and Accommodation
The conference will take place at the Ramla Bay Resort, located on a secluded peninsula on the northern coast of Malta, overlooking the picturesque islands of Gozo and Comino. The hotel has over 400 spacious rooms, each with a private balcony or terrace, and equipped with satellite television and air conditioning. The Ramla Bay Resort has a wide range of leisure facilities for guests, including a private sandy beach, indoor and outdoor swimming pools, fitness and wellness area.
The Resort hosts several 'wine & dine' options for you to choose from, including our main buffet restaurant The Horizon, and the al fresco Alang-Alang, which is charmingly perched overlooking the sea. The Mojitos Beach Terrace serving cocktails and Latino cuisine right by the water's edge. The Seabreeze Casual dining right on the pool deck and the Watermelon Juice Bar mouth-watering fruit bar serving a healthy option of freshly made smoothie, fruit juice, or fruit salad.
Address:
Marfa, L/O Mellieha,
MLH 7100, Malta
Tel. +356 2281 2281
Additional Information
Please use the links below to access additional information related to the conference. All links open in a new window.
Comments from delegates that have attended our conferences
Excellent conference. A group of professionals concerned about the destiny of the architectural heritage. Mariolly Dávila
The overall experience was great. The conference provided a platform for international collaborations and understanding. Well done to Wessex Institute Nor Hussain
I have been having an excellent experience with Wessex Institute Israel Felzenszwalb
First and foremost, I very much like the very professional way of organising so many congresses on such a wide range of topics and levels of complexity. Second, the mix of attendants/experts from all over the world leads to nice discussions and exchanges of ideas. Every time, there are things to learn and take home. Third, I like the very friendly, rather personal, atmosphere. Fourth, the limited number of attendants means that there are no crowds or messy situations. Fifth, everything is perfectly clear, from start to finish, there are no surprises. Sixth, the key organizer is a very amiable and accessible team player. There is no complex organisation with many levels of decision making Jaap Vleugel
Very interesting conference, the papers were well researched. Ihuoma Onungwa
The conference provided us with an intercultural and scientific exchange with respect to the current relevance of water research Mariza Abrameto (UNRN Argentina)
Quite interesting, good meetings, new colleagues from other countries, professionaly good to know more about WIT Conferences Vera Maria Lopes Ponçano
Great atmosphere with extensive interaction amongst delegates Derek Northwood
It was an interesting experience, meeting participants from other countries, exchanging ideas, deducting logical solution for serious problems related to sustainability and quality of life Dr. Maged Youssef
A great experience interacting with colleagues from all over the world on a personal level. It was interesting to learn about others' projects and affirm the value of the work we are doing in sustainable planning and development Julia Murphy
It's been a great experience attending the WIT Conference on Sustainable Development and Planning. The process of abstract and paper review has been smooth and well coordinated throughout. I would highly recommend next generation scholars to engage in the future conferences organised by WIT Sarbeswar Praharah
A great experience interacting with colleagues from all over the world on a personal level. It was interesting to learn about others' projects and affirm the value of the work we are doing in sustainable planning and development Julia Murphy
Very good conference and I will attend again and encourage my Faculty to attend Thomas C. Sammons
The experience in the conference was really good. The conference was well organized and I felt very confortable. The quality of the contents was very interesting. For sure I will attend the next conference Antonio José Tenza-Abril
A very fruitful and rewarding cooperation Germán Rodríguez Rodríguez
I have been having an excellent experience with Wessex Institute Israel Felzenszwalb
This was my first conference participation organized by Wessex Institute (WI) and I intend to get involved annually Dr Shadung Moja, South Africa
As always it was a very pleasant experience and I like the wide thematic and regional spread of the participants Michael Groll
My experience with the Wessex Institute was very good Domenica Mirauda
The organization and location was excellent as always Ekkehard Christoffels