The 2017 Prigogine Gold Medal was awarded to Professor João Carlos Marques, University of Coimbra, Portugal.
The Prigogine Gold Medal 2017 Award Ceremony took place at the University of Seville on Wednesday 20th September 2017, on the occasion of the 12th International Conference on Urban Regeneration and Sustainability (The Sustainable City) and the 7th International Conference on Energy and Sustainability.
The Prigogine Medal was established in 2004 by the University of Siena and the Wessex Institute of Technology to honour the memory of Professor Ilya Prigogine, Nobel Prize Winner for Chemistry.
ILYA PRIGOGINE
Ilya Prigogine was born in Moscow in 1917, and obtained his undergraduate and graduate education in chemistry at the Free University in Brussels. He was awarded the Nobel Prize for his contribution to non-equilibrium thermodynamics, particularly the theory of dissipative structures. The main theme of his scientific work was the role of time in the physical sciences and biology. He contributed significantly to the understanding of irreversible processes, particularly in systems far from equilibrium. The results of his work have had profound consequences for understanding biological and ecological systems.
Prigogine's ideas established the basis for ecological systems research. The Prigogine Medal to honour his memory is awarded annually to a leading scientist in the field of ecological systems. All recipients have been deeply influenced by the work of Prigogine.
Previous Prigogine Laureates were:
2004 Sven Jorgensen, Denmark
2005 Enzo Tiezzi, Italy
2006 Bernard Patten, USA
2007 Robert Ulanowicz, USA
2008 Ioannis Antoniou, Greece
2009 Emilio del Giudice, Italy
2010 Felix Müller, Germany
2011 Larissa Brizhik, Ukraine
2012 Gerald Pollack, USA
2011 Larissa Brizhik, Ukraine
2013 Vladimir Voeikov, Russia
2014 Mae-wan Ho, UK
2015 Bai-Lian Larry Li, USA
2016 Brian Fath, USA
---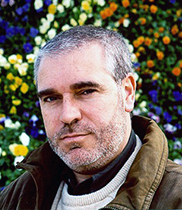 JOÃO CARLOS MARQUES
The recipient of the 2017 Award was Professor João Carlos Marques of the University of Coimbra in Portugal. He graduated from the University of Lisbon and received his PhD in Ecology from the University of Coimbra.
His core areas of research are marine and estuarine ecology, as well as aquatic ecosystems in general as well as their interference with territorial ecosystems, focusing on the study of ecological processes and their characterisation, quantification and modelling.
Prof Marques is author or co-author of more than 250 scientific papers in international Journals, six books, and has contributed to many edited volumes.He has coordinated and participated in numerous research projects funded by Portuguese agencies and the European Union. He also played a key role in creating new research information at the national level.
He has been Director of important centres and institutions at the national level, as well as at his University. He is Editor in Chief of the International Journal on Ecological Indicators, as well as a member of the Editorial Board of other publications.
---
SPECIAL PRIGOGINE LECTURE
on
"Coastal systems in transition: The game of possibilities for sustainability under global climate change."
delivered by Professor João Carlos Marques at the University of Seville, Spain
---
For further information about the Prigogine Awards, please contact:
Wessex Institute of Technology
Ashurst Lodge, Ashurst
Southampton
SO40 7AA, UK
Tel: +44 (0) 238 029 3223
Fax: +44 (0) 238 029 2853
Email: This email address is being protected from spambots. You need JavaScript enabled to view it.
See the following Web pages for details of recent Prigogine Awards:
Further details of all Prigogine Awards can be found on our dedicated page: Prigogine Award