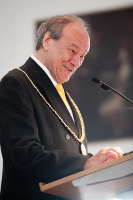 Prof. F Unger
The Annual General Meeting of the European Academy of Sciences and Arts recently took place in Salzburg, Austria.
The Meeting celebrated the achievements of Cardinal König, famous Bishop of Vienna, and one of the founders of the Academy, as well as being the occasion for the induction of new members.
The Academia Scientiarium et Artum Europaea is a learned Society, whose members are selected to discuss and resolve the many pressing questions facing Europe and the world today. It counts among its members 1,500 top scientists and artists, and the list includes 29 Nobel Laureates.
The organisation is supported by the European Union and the Austrian Government. It was established with a view to bringing together different disciplines and promoting the exchange of ideas. Cardinal König in particular was interested in the question of ethics in science. He also was of the opinion that the differentiation of specialist fields and research constituted a risk.
Nikolaus Lobkowicz, a political scientist and philosopher, another of the founders, sought the possibility to stem the decline in values which he observed taking place in Europe.
More recently the Academy has established its own University "Alma Mater Europaea" with campuses in Maribor and Salzburg. The President of the University is Prof Felix Unger, a heart surgeon to whom the original idea of the Academy is due. Professor Unger wanted to contribute in this manner to the harmonious development of European societies and cultures.
The Meeting took place in the Aula Magna of the University of Salzburg and was opened by Prof Unger and Dr Wilfried Haslauer, Mayor of Salzburg. Following this, the life achievements of the late Cardinal König, a founder of the Academy were described by Professor Unger.
After a brief musical interlude, the new members were admitted to the Academy, among them Professor Carlos A. Brebbia, Director of the Wessex Institute, in the category of Technical and Environmental Sciences.
Prof Brebbia is the Founder and Director of the Wessex Institute and is renowned for his contribution to the development of Computer Methods in Engineering. He is widely acknowledged as the creator of the Boundary Element Method, a technique for which he developed numerous applications in engineering and sciences. He is the author of many books and editor of numerous publications, including conference proceedings and state of the art books and journals. As part of the Institute's activities, he chairs a series of international conferences held in many different countries.
The keynote address was delivered by Dr Maimilian Fussl, former Commissioner for Agriculture for the European Union. The title of the address was "Europe at the Crossroads" and he spoke about the many problems that besiege Europe at present and the need to find new directions for European integration, referring in particular to making the governance of Europe more democratic, with the political appointees collaborating with the stakeholders and voters.
The Meeting closed with a short recital playing the European Anthem.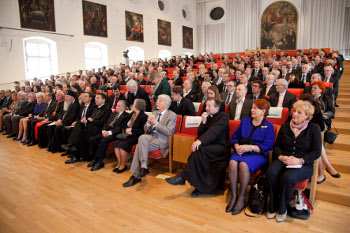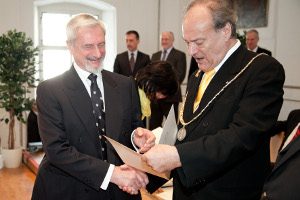 Left: View of the audience; Right: Prof. Brebbia receiving his certificate of membership from Prof. Unger