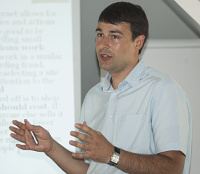 Professor Ievgen Sakalo from Kharkiv National University of Radio Electronics (NURE) in the Ukraine gave a series of seminars at Ashurst Lodge on Methods of Website Promotion.
Ievgen is a graduate from NURE where he also obtained his PhD in Computer Sciences. He is now Associate Professor at the Applied Mathematics and Management Faculty where he teaches courses on Internet Technologies and the Web, aimed towards business applications. He is Rector's Associate for new training initiatives and in charge of international cooperation, internships, conferences, research projects and grants. His research interests are internet technologies in business, business information and intelligence.
WIT has already collaborated with NURE through a series of advance courses leading to a Masters degree in Information Technology. This programme produced a series of graduates, including several PhDs, with degrees accredited by the University of Wales. The collaboration continues to this day with a series of visits and joint publications.
Ievgen started his seminars by explaining the difference between online business versus classical business at fixed locations. He stressed the importance of search engines to Web promotion and stated that the most popular engine is Google with 90% of the traffic. Social networks are dominated by Facebook with nearly 80% of the world market. The growth of mobile devices such as smartphone has opened up new opportunities.
Google advertising on the other hand – ie the one on the right hand side of their pages - only attracts 18% of clicks versus the 82% of the usual listings. The percentage of clicks in Twitter advertisements for instance is even lower at 1% and the situation is even less favourable for Facebook. The moral is that it is not worthwhile paying for advertisements.
The most famous tool for the Web is SEO (Search Engine Optimisation) and in order to have a high ranking one needs to:
Create relevance and intensity context

Choose the right keywords

Build links with other Websites

Become more active in social networks
SEO organises your Website to make it more suitable for the search engines. The main goal is to work on the site to fit within the search engine requirements.
Ievgen recommended to use a unique title for a Website, which should be repeated throughout the contents of the site. It is important to achieve an active social bookmarking which implies a continuous addition of contents. The links developed in this way are another way of making your website easy to find.
Ievgen referred to the importance of link exchange which will increase the Website page ranking. It is essential however to choose quality sites that will bring better traffic into your Website.
Google Analytics can be used to find statistics about your website. They can be accessed by obtaining a password and it will report Website traffic which ought to lead to improvements.
His recommendations of how to promote a Website were to optimise it offsite, announce it in special websites, create a profile in Social Networks and carry out email marketing.
Email marketing ought to be differentiated from Spam, as in the case of the former the receiver wishes to see your news. The emails ought to be interesting and focussed. It is important to keep marketing the receiver as 80% of them return to the Website. One should always collect and analyse the data obtained after a marketing campaign to continually improve the marketing plan.
One needs to target using the right keywords and phrases to optimise the site. Search engines prefer "writing for humans" rather than polished content.
Viral marketing is a new way of promoting on the Web. It is based in creating self replicating Web processes and in this manner the message will continue to multiply. It is a cheap way for small companies to achieve high visibility. The disadvantage of viral marketing is that it is short lived and can be counter productive.
The best approach to promote the Website is to optimise it from social media but it also requires frequent updates, otherwise optimisation does not work. Searching emails and comments in blogs is a good way to increase the ranking.
Promotion, Ievgen concluded, is an ongoing process and it is important to have quality content and seek feedback when making any changes.