Course Description
The aim of this short course over two days is to introduce engineers, researchers and students to simplified methods for the analysis and design of structural elements subjected to explosive loading in the built environment. The course will be based around the application of spreadsheet analysis tools (provided) to typical practical situations with reference to the widely used manual UFC 3-340-021. The course will cover elementary concepts of HE blast loading and response in the far-field domain and provide participants with an appreciation of the scope and limitations of analytical methods for modelling these types of problems.
1This is an unclassified document approved for public release (distribution unlimited) that can be downloaded from the web; see https://www.wbdg.org/FFC/DOD/UFC/ufc_3_340_02_2008_c2.pdf
Course Programme
20-21 May 2019
Lectures will be presented on the following topics:
Introduction and general considerations
Blast effects and characterisation
Loading on structures caused by external air blast
Single-degree-of-freedom (SDOF) analysis methods
Analysis and design of ductile elements under blast loading
Spreadsheet analysis tools with 'hands-on' practice sessions
Scope and limitations of analytical methods for blast response
The 'hands-on' sessions require the use of a Windows compatible laptop computer. It is advisable to bring one with you, if at all possible, preferably with Microsoft Excel 2007 (or above) installed.
Course Structure
The Course will start at 9.15 am on Monday, 20 May 2019 and finish at 4.00 pm on Tuesday, 21 May 2019.
Course Materials
The course fee includes all working materials, lunch, coffee, tea and all computer facilities used, where applicable. During the course, there will be practice sessions for which software will be provided and therefore participants may wish to bring their own laptops.
Course Presenter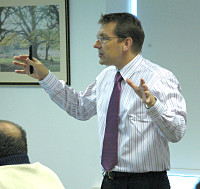 Dr Graham Schleyer CEng, FIMechE, SFHEA is a Senior Lecturer in the School of Engineering and a member of the Impact Research Centre at the University of Liverpool, having worked previously for several years in the gas industry and for shorter periods with leading research and technology companies in the UK and the US. Over the past 25 years or so he has conducted hundreds of field and laboratory tests on full-size and sub-scale structures involving gas, HE and pressurized air explosions which have provided fundamental insights into the explosion resistance of steel, glass and RC structural elements as well as validation of numerical models and simplified analytical methods.
Dr Schleyer is co-chair of the International Conference 'Structures Under Shock and Impact' (SUSI) organised by the Wessex Institute. He is a previous Royal Academy of Engineering Global Research Award holder (formerly Engineering Foresight Awards), and has published widely in journals, conference proceedings, and government and industry reports.
Location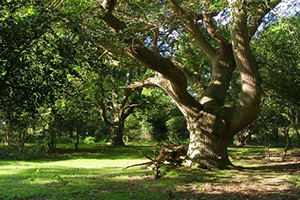 The New Forest is one of the UK's most popular tourist destinations and offers many attractions all year round, including picturesque forest villages as well as beautiful scenery. It is located in Southern England, spreading over 150 square miles of Hampshire. The New Forest was established as a royal hunting ground by King William I, and by the 14th century, the land was being used to produce timber for the shipbuilding industry on the south coast. Today, after nearly 1000 years, the forest is still Crown property and is administered by the Forestry Commission. Since the reign of King William I commoners have been given the right to graze their livestock, normally ponies, cattle and pigs, on Forest land where they wander freely. In the New Forest, the well-being of the animals and the special needs of the countryside are a priority. The Forest is unarguably recognised as one of the most unique and important wilderness areas in Western Europe and, because of this, it is now a National Park.
Venue and Accommodation
The course will take place at the Wessex Institute at Ashurst Lodge located in the New Forest, an outstanding National Park that borders the South Coast. Ashurst Lodge is an ideal venue for conferences, courses and seminars. The participants can benefit from an excellent standard of accommodation, either on Campus or in various hotels or bed and breakfasts in the area. The surroundings are equally appealing to those who enjoy walking, horse riding, cycling, sailing and fine landscapes.
For more information on how to find Ashurst Lodge and to arrange accommodation during the courses please use the information provided on the Contact Us page.