Description
This workshop will consider new insights through three recent experiences related to earthquakes and tsunamis that took place in Mexico, Chile and Japan between 2010-2017. The case study analysis goes from the theoretical and empirical perspective to practical implementation of solutions.
In recent years, there have been two key areas of concern within Urban Planning in general, on the one hand; Threats, Risks, Vulnerabilities and Disasters caused by climate change and natural hazards have made conventional premises about land use and infrastructure management "out-of-date", on the other hand Smart Planning has emerged as an alternative that seeks to integrate a huge amount of data in order to get key knowledge for decision making in a rapid and responsive manner.
An additional challenge lies in the forward-looking nature of risks and vulnerability. That is, risk and vulnerability assessment needs to take into account those factors and processes that may not yet have become evident in past disaster situations. This is particularly valid in highly dynamic environments where both socio-natural hazards and vulnerability patterns might undergo rapid changes in the near- and mid-term future (Garschagen, 2014).
The importance of integrating uncertainty in Disaster Risk Management has often been underlined but still remains an issue of concern today. In this regard, Smart City Planning could play a relevant role in considering capabilities for data collection, information processing, real-time monitoring and networked infrastructure management.
Topics
A smart city plan should start with people and be for people, therefore technology is used as an interface that facilitates the design, management, operation and updating of the networked infrastructure. But a smart city is more than a high-tech city. People are at the forefront of city change. The principles of sustainability, quality, equity and rapidity are the main pillars for smart city planning.
Three main thematic clusters will be considered:
Natural Resources & Energy - The Hardware
Built Environment - The Software
Society & Skills - The User
Within each thematic cluster, we will focus on:
Data & Knowledge Management - The Hardware
Project Management - The Software
Governance - The User Platform
Experiences from both developing and developed countries provide a better perspective of references and its correlation with cultural, socio-economic, environmental and technological gaps and opportunities.
By reviewing the whole process within a comparative approach, participants will acquire key insights in order to prepare a better Urban Planning strategy that embraces both: Threats, Risks, Vulnerabilities and Disasters on the one hand, and the Smart City Planning premises on the other.
Workshop Programme
In accordance with the thematic clusters described in the topics section, a synthesis for each case study will be presented.
Day 1
Mexico
Underlying Causes of Vulnerability and its impact on Damage and Losses: Assets, Infrastructure and People
Legal Framework and Compliance: Gaps regarding "land use" legislation, and building standards
Capacity Building and Institutional Reform: A core foundation for Smart City Planning
Day 2
Chile
Disaster Risk Management and National development; Political Commitment to embed DRM in the long-term. A transition from a developing to a developed country
Cost-Effective Analysis of Infrastructure and Housing investments, "side-benefits" as key driven forces for long-term development
International Cooperation for enhancing technical capabilities and DRM practices: From Global to Local solutions
Day 3
Japan
Japanese DRM-Philosophy as an outstanding premise:"Self Help," "Mutual Help" and "Public Help." From Public Awareness-Preparedness to Response and Resilience Building
Open Data Platforms, Knowledge Management and Planning Tools (Software and Monitoring Tools, Simulation and Forecasting Scenarios)
Agreements, Partnerships and Business opportunities. Engaging all relevant stakeholders for long-term development
Networked Infrastructure: Study-Case
Presenters
Dr Jorge Diaz, Dr Ivan Cartes and MSc Sayaka Yoda took a prominent role in leading the strategy along the four stages of DRM (response, recovery, mitigation and preparedness) during those events in Mexico, Chile and Japan respectively.
Dr Jorge Diaz is a senior consultant at a global scale, his experience spans over twenty-five years. He is also a researcher on topics related to Smart City Planning and has collaborated with the National Council for Science and Technology Development in countries such as Peru, Mexico and Chile. He has been awarded research fellowships by some international organizations from Canada, Chile, South-Africa, Mexico and the European Union to provide technical assistance related to Urban Planning.
Dr Ivan Cartes is a senior consultant who led the PRBC-18 (Re-Construction of 18 coastal towns in Chile, after the earthquake and tsunami of 2010) from tsunami proof housing to land use planning, urban design and resilient infrastructure implementation. A Community based approach was at the core of the whole program. He is both a researcher and a senior consultant on issues related to Urban Planning and has provided technical support to the government of Chile's Ministry of Housing and Urbanism since 2001. His career spans over twenty-five years at a global scale, including the United Kingdom, Peru, Chile, Mexico, amongst other countries.
MSc Sayaka Yoda is a Program Officer at CITYNET Yokohama Project Office. Established in 1987, CITYNET is an international organization that creates a network of cities, academia, organizations and private sectors in the Asian Pacific Region and facilitates city-to-city cooperation in urban development. She has been working on conducting training sessions for government officials to mainstream disaster risk prevention in urban planning, and surveying and analysing Asian Pacific Cities' needs and capacity in Disaster Risk Management and urban development. Ms Yoda has worked in the Philippines, Kathmandu, Nepal, Mexico, UK, US and Japan, amongst the main countries.
Register your Interest
Please email the Course Coordinator to register your interest in this course and give a recommendation for suitable dates in 2021.
Jane Chantler - This email address is being protected from spambots. You need JavaScript enabled to view it.
Once the course date is finalised we will contact you and activate the registration form.
Some subsidies might be available for PhD students. Contact us for further information.
Location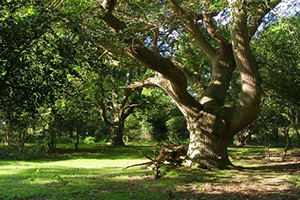 The New Forest is one of the UK's most popular tourist destinations and offers many attractions all year round, including picturesque forest villages as well as beautiful scenery. It is located in Southern England, spreading over 150 square miles of Hampshire. The New Forest was established as a royal hunting ground by King William I, and by the 14th century, the land was being used to produce timber for the shipbuilding industry on the south coast. Today, after nearly 1000 years, the forest is still Crown property and is administered by the Forestry Commission. Since the reign of King William I commoners have been given the right to graze their livestock, normally ponies, cattle and pigs, on Forest land where they wander freely. In the New Forest, the well-being of the animals and the special needs of the countryside are a priority. The Forest is unarguably recognised as one of the most unique and important wilderness areas in Western Europe and, because of this, it is now a National Park.
Venue and Accommodation
The course will take place at the Wessex Institute at Ashurst Lodge located in the New Forest, an outstanding National Park that borders the South Coast. Ashurst Lodge is an ideal venue for conferences, courses and seminars. The participants can benefit from an excellent standard of accommodation, either on Campus or in various hotels or bed and breakfasts in the area. The surroundings are equally appealing to those who enjoy walking, horse riding, cycling, sailing and fine landscapes.
For more information on how to find Ashurst Lodge and to arrange accommodation during the courses please use the information provided on the Contact Us page.