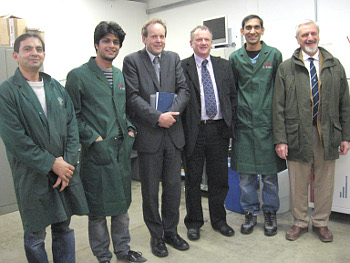 Professor Carlos A. Brebbia and Dr Robert Adey from Wessex Institute and its BEASY Software Unit, were invited to give a Research Seminar at Bournemouth University's Sustainable Design Research Centre. The Seminar, run by Dr Zulfiqar Khan, was attended by researchers from the School of Engineering and Computing and in particular by the Head of the Engineering Design Department, Professor Mark Hadfield.
Professor Brebbia introduced the work of the Wessex Institute, giving a brief description of its objectives as a knowledge transfer organisation. This includes work in the field of computational modelling with a wide variety of applications, training and scientific meetings organisation, and the publication of scientific and technical literature.
Wessex Institute collaborates with many institutions around the world and acts as a focus for the dissemination of the latest advances in a variety of fields.
Carlos hoped that this Seminar and other activities organised with Prof Hadfield will set the basis for further collaboration.
Dr Adey referred to the major developments in computer modelling of galvanic corrosion processes over the last twenty years which have resulted in modelling being widely used to simulate the performance of cathodic protection systems which are used to protect structures from corrosion both offshore and onshore. These physics based models represent the electrode kinetics on the metallic surfaces as well as the current flow through the electrolyte. In recent years similar technology has been developed to simulate galvanic corrosion between dissimilar metals in structures which are exposed to thin electrolyte films. For example aircraft and automobiles subject to humid atmospheres and splashing of de-icing fluids.
The presentation showed applications of the modelling technology in the Oil & Gas industry and describe recent developments in modelling cracks in aircraft structures.
The talks were followed by a lively discussion section.
After the lecture, the visitors were given a guided tour of the Laboratory facilities run by Prof Hadfield and Dr Khan and in particular the type of experiments being carried out in corrosion, fretting and wear.
For further information contact Professor Carlos A Brebbia (This email address is being protected from spambots. You need JavaScript enabled to view it.).