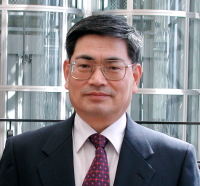 Professor Masataka Tanaka passed away on 9 December, 2009. We are deeply grieved at losing such a great figure in Computational Mechanics, especially in Boundary Element Methods. We pray that his soul may rest in peace.
Professor Masataka Tanaka was born in 1943 in Osaka, Japan. He graduated from Osaka University in 1968 and obtained a Doctorate of Engineering in 1973 from Osaka University. He was a research associate at Osaka University from 1968 to 1983. During this period, he studied at the University of Stuttgart in Germany from 1975 to 1976 with the support of Alexander von Humboldt Foundation. He then moved to Shinshu University, Japan in 1983 as an Associate Professor, was promoted to Professor in 1987 and retired in 2008.
His main interest was in the application of boundary element methods to various engineering problems and solutions to inverse problems in engineering. He was one of the outstanding leaders in the boundary elements research community. He published more than 400 scientific papers and numerous books. He was editor of many conference proceedings on the boundary element method and inverse problems and one of the main editors of the International Journal of Engineering Analysis with Boundary Elements, and editorial board member of many other journals.
He studied BEM on elastostatics, elastoplastics, elastodynamics, heat transfer, acoustics, etc. Amongst other things, he contributed to applications of BEM for solving various inverse problems such as defect identifications using extended Kalman filter algorithms using time-harmonic vibration data, shape design sensitivity analysis and shape optimization problems in acoustics, heat transfer, identifications of sound sources, regularization of singular integrals, etc. He published more than 400 papers related to these fields.
He was very active in organizing communities which brought together people in various fields of science. He founded the Japan Society for Computational Methods in Engineering (JASCOME) in 1983 and was its president until 2007.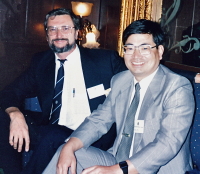 Prof Masataka Tanaka with Prof Carlos A. Brebbia, WIT's Director, at BEM 13
He organized: BEM International Conferences in 1986 and 1990; Japan-US, US-Japan BEM Symposia in 1988 and 1990; Japan-China, China-Japan Boundary Element Symposia in 1987, 1988, 1990, 1991, 1993, 1994, 1996, and 1998; International Symposium on Inverse Problems in Engineering Mechanics (ISIP) in 1992, 1994, 1998, 2000, 2001, and 2003; Asia-Pacific International Conference on Computational Methods in Engineering (ICOME) in 2003 and 2006.
He was a Fellow of the Japan Society of Mechanical Engineers and was the Chairman of its Computational Mechanics Division of the year 2001. He received awards from JACM in 2005, JSME in 1996, 1997, 2003, JSMS in 2005, and the Honor Plaque of the Slovak Academy of Sciences named by Aurel Stodola in 2003. He was awarded the Wessex Institute Eminent Scientist Medal in 1986.
Professor Tanaka felt a sudden change in his physical condition in the summer of 2007, just before his retirement. He began to lose some of his physical functions and in the autumn of that year, he had difficulty in walking and was staying at home. Finally, it turned out that he suffered from a kind of olivopontocerebellar atrophy (OPCA) which is difficult to recover from. He fought against it with the dedicated help of his wife, but at 13:44 on 9th of December, 2009, he passed away in Nagano Red Cross General Hospital.
He was famous for his very close supervision of the students in his laboratory of Shinshu University. But, outside of the laboratory work, he was always joyful and frank. He enjoyed barbeques at mountain sites and skiing in winter on the fields where the Winter Olympic Games were held in 1998.
His friends, colleagues and students, as well as his family will miss him and forever remember him with affection.
Obituary by Toshiro Matsumoto