Professor C A Brebbia, Director of the Wessex Institute of Technology, and Mr David Anderson, Managing Director of WIT Press, participated in the Frankfurt Book Fair where they held several important meetings and discussed ways of collaborating further with other institutions and publishers.
The highlight of their visit was the signing of an agreement with Science Press Ltd of Beijing, China, for the publication of more than 40 titles written in Chinese. These books that cover a wide range of topics in science and technology are now being translated into English, and it is hoped that the first titles will be published at the beginning of next year.
Science Press was represented at the ceremony by Mr Liu Jianyao, Chairman of the Board, and Mr Lin Peng, General Manager of Science Press. At the end of the signing, Mr David Anderson offered them copies of the New Forest Book published by WIT Press and Professor Brebbia expressed his gratitude to Science Press in the name of his institution for the trust placed in WIT Press, hoping that the work will lead to further collaboration in the future. Mr Liu Jianyao gave a parting gift to both WIT representatives to celebrate the occasion.
The agreement is a milestone for WIT Press which is committed to ensuring its presence in the Far East.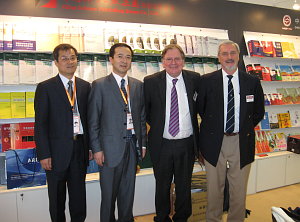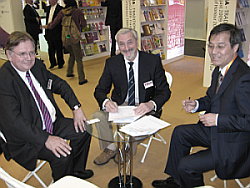 Sitting down left to right: David Anderson, Carlos A Brebbia and Mr Lin Peng
Standing left to right: Mr Lin Peng, Mr Liu Jianyao, David Anderson, Carlos A Brebbia