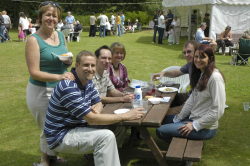 The annual Summer WIT Barbeque, which has been held each year since the establishment of the Institute, took place at the Ashurst Lodge Campus recently and, as usual, the weather was excellent.


This year the event attracted a large number of friends and colleagues in addition to WIT staff and members of their families. The wonderful fare (roast lamb) was accompanied by good wines and refreshments, as well as the now famous Sangria which was more popular than on previous occasions.

The summer barbeque is held in conjunction with the Board of Directors' Summer Meeting which always brings together outstanding scientists who are members of this important body. The WIT Board meets twice a year to determine the strategy and policies of the Institute which are then implemented by the Director and his staff.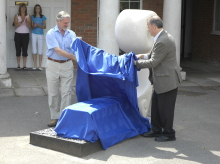 The contribution by these colleagues has been crucial to the success of the Institute as they all participate fully in a series of research and training initiatives. The prestige of WIT is in great part a consequence of the quality of its Board members.


This time, the barbeque was also the occasion of the unveiling of a new specially commissioned sculpture, located at the main entrance to the Institute. It represents a spiral, which has many associations in sciences, arts and nature. The artist was inspired by the nautilus shell form which is yet another reflection of the renowned golden ratio of mathematics, arts and architecture.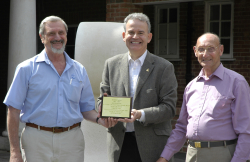 The local MP, Dr Julian Lewis, unveiled the piece, which was carved by a local sculptor in Purbeck stone from the region. He also unveiled a plaque donated by Mr Bert Stannard, who was a soldier stationed at Ashurst Lodge during the Second World War. For some time, the Lodge was the officers' base of the 6th Port Group of the Royal Engineers, who became famous as builders of the local Military Port at Marchwood and contributed to the development of the Mulberry Harbours and Pluto, the pipeline under the sea, which was used to provide fuel to the troops fighting in Normandy. The plaque will help to record that part of the Lodge's history.


The whole afternoon was, as usual, an occasion for friends of WIT to meet and get to know each other better.


A truly enjoyable occasion!