A special seminar was held at the Wessex Institute of Technology to describe the current research being carried out by four PhD students. This was on the occasion of our Board of Directors Meeting and consisted of an audience comprising, among others, several distinguished visitors, ie: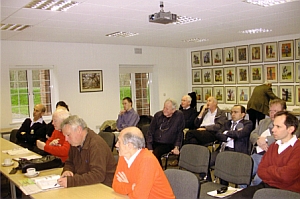 Prof Jerry Connor, Massachusetts Institute of Technology, USA
Prof Eckart Schnack, Karlsruhe University, Germany.
Prof Santiago Hernandez, University of La Coruna, Spain
Prof Matiur Rahman, Dalhousie University, Canada
Prof Hugh Tottenham, University of Southampton, UK (retired)
Prof Patrick de Wilde, Free University of Brussels, Belgium
Prof Basil Leftheris, University of Crete, Greece (retired)
Prof Geoffrey Broadbent, University of Portsmouth, UK
Prof Antonio Tadeu, University of Coimbra, Portugal


The presentations were as follows:
"Adaptive Cross Approximation Approach for the direct Boundary Element Method" by Taras Grytschenko of the Information and Communications Engineering Division. Taras' research aims to solve very large BEM systems of equations, a problem of fundamental importance for the development of the method and its application in industrial problems.
"Failure Assessment of Shell-like structures" by Lie Zhang of the Industrial Research Division. One of the solutions that has been proposed to solve the current energy crisis, is adding hydrogen to the natural gas. The mixture has, however, a series of undesirable effects as hydrogen increases the brittleness of metals. The project investigates the fracture behaviour of pipelines in order to determine accurate life predictions.
"Fatigue Failure of Francis turbine Runner" by Raza Saeed. Major cracks were discovered during routine maintenance of one of the three Francis turbines in a dam in Kurdistan (North Iraq). The project aims to understand the phenomena of crack interaction and propagation in order to propose methods that can monitor the performance of the runners and predict possible fracture propagation and failure.
"An overlapping BEM sub-domain technique" by Bui Thanh Tu. A new meshless method has been developed to increase the versatility of BEM. The technique's accuracy and reliability is now being investigated.
A lively question and answer session followed each of the presentations during which the members of the Board of Directors, all internationally renowned scientists, made many comments and useful suggestions to the researchers.
| | | | |
| --- | --- | --- | --- |
| | | | |
| Taras Grytschenko | Bui Thanh Tu | Raza Saeed | Lie Zhang |