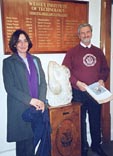 The Annual General Meeting of the Wessex Institute Board of Directors presented an occasion for unveiling a new work of art at the Lodge. This was the sculpture in alabaster of the "Auroral Woman" by the Spanish Sculptress, Pilar Perez Subia.
Pilar, who is the wife of Professor Santiago Hernandez of the University of La Coruna, is a well-known Sculptress, with many important works of art to her credit. Her patrons comprise governmental institutions in Aragon, her native land and in Galicia, her adopted country. She designed, for instance, the official Coat of Arms of Aragon and has several monuments in the town of Zaragosa, including one to the Mediterraneo, an obelisk in Europe Square, the monument to the visually handicapped, and many other works of art. She has sculptures in several of the promenades in sea-side towns in Galicia and has works of art in different collections around the world.
Carlos thanked Pilar for travelling from La Coruna to be present at the unveiling and stressed the importance that her works of art have in improving the working environment of the Lodge. Pilar replied by explaining the ideas behind the conception of her statue.
The Lodge already has one sculpture by Pilar, called "Eagle Woman", which is located near the tennis court and provides a focal point for the area, adding beauty to what otherwise would be a much less appealing area.