An important agreement was recently signed between the Wessex Institute of Technology (WIT) and the Kharkov National University of Radio Electronics (KNURE) in the Ukraine.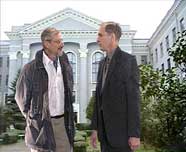 The agreement refers to the collaboration of both Institutions in a series of training and research activities to start in the near future. The agreement was signed by Prof Mikhail Bondarenko, Rector of KNURE and Prof Carlos Brebbia, Director of WIT, during the visit of the latter to Kharkov.

Carlos stressed the importance of the agreement as a first step to carrying out a series of projects. Researchers at KNURE benefit by having exceptionally strong theoretical basis and their skills can be very advantageous to industrial companies in other countries. WIT hopes to be able to act as a mechanism for the transfer of this knowledge bringing the work at KNURE to the attention of many around the world.

One of the first initiatives under the link will be the development of a training programme in the field of Information systems, Data Mining and Knowledge discovery. This programme has been established in response to the growing demand for information system specialists who are able to analyse the large amounts of data now available in the ever expanding databases around the world. This type of information system specialist is required in business, marketing, public health, government organisations, engineering, sciences and many other fields of application. The speed of the Internet has led to an increase in the amount of data available by making it more readily accessible.

The programme includes a series of intensive courses in the area of information systems and requires the completion of a research thesis. The courses are as follows : Information Systems Technology, Data Mining, Applications of Data Mining in different fields, Text Mining and Web-based information systems.

It is expected that students in the programme will be offered the opportunity of working in a UK Company during their stay at WIT.

For further details of this programme, as well as other activities related to the industrial training of the KNURE candidates, please contact Dr. W Blain.