An important link agreement was signed by the Wessex Institute during the recent visit by Prof Carlos Brebbia, its Director, to Beijing. The agreement between WIT and the China Information University College (CIUC) is to comprise of a series of joint initiatives in Training and Research.

CIUC is an institution dedicated to training and research on information technology and business management, offering undergraduate degrees and wishing to develop its graduate programmes. It depends on the State Information Centre and its research activities are undertaken through the China Economic Information (CEI) Network, which is also an official institution.

Dr George Gu Zhang, Director of the College of International Management represented CIUC and signed the agreement on behalf of its institution.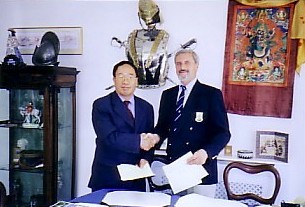 This important link includes the training of research students at the New Forest Campus as well as hosting the visits of postgraduate scholars from Beijing. WIT has had a series of graduate students from China since its foundation, many of whom finished PhD degrees and are now in positions of responsibility in academia and industry. This new link will reinforce the collaboration that WIT has already had with colleagues from China.