High Performance Simulation for Structural Integrity Analysis
A European Union ESPRIT Project
Welding processes are of major concern to many industries, including power, offshore and aerospace. This concern is due to the frequent fatigue failure of welded components, caused by a number of small flaws joining up and leading to the formation of dominant cracks. As such, welded components are the target of costly periodic inspections.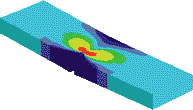 Computer simulation is now recognised as a necessary part of the design process for high technology manufacturing industries. Reducing the time and costs of such inspections, through enhanced simulation, is therefore essential to maintain the competitiveness of these industries.

Main Objective
The HIPSIA project created a new design and simulation environment by combining new, state-of-the-art numerical methods; analytical models based on experimental tests and cost effective high performance computing technology.
Results
The development of an interactive simulation based engineering design environment for the assessment of structural integrity of welded components.
The results of this project have been disseminated to a wide group of end users, opening the way for further take up and exploitation of high performance computers.
Project Partners
Wessex Institute of Technology, UK
CESGA, E
COPPE, BRZ
INTEMA, AR